The International Franchise Association (IFA) has named Jeff Parsons and Wes Snyder, multi-unit owners of sign, graphics, and visual communications franchise FASTSIGNS® as 2023 Franchisees of the Year. Parsons and Snyder were honored at the 63rd IFA Annual Convention in Las Vegas, Nevada, for being outstanding franchise establishment owner-operators.
"Jeff Parsons and Wes Snyder are masters of the FASTSIGNS model and have been integral contributors to the health and vibrancy of our network," said Andrea Hohermuth, president of FASTSIGNS International, Inc. "They invest in their people, they invest in their processes, and they invest in their centers to ensure each location has the capability and knowledge to deliver our brand promise to customers.
"We are proud to have such outstanding franchisees represent the FASTSIGNS brand and are honored to receive this recognition from the IFA."
The Franchisee of the Year Award, sponsored by IFA's partner Paychex, recognizes leading franchise owners from IFA member brands whose outstanding performance and contributions help protect, enhance, and promote the franchise business model. Nominated by their parent company, individuals are selected for their service to their communities, fostering a strong and vibrant workforce, opening the doors for career growth and entrepreneurship, and supporting their fellow franchisees.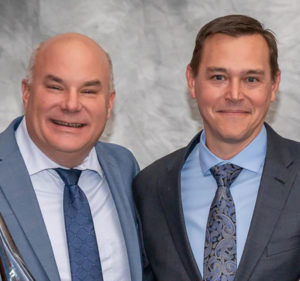 "It is an amazing honor to receive this award. I have been a franchisee for almost twenty-five years, and everything I have accomplished in my life is a direct result of the FASTSIGNS network," said Wes Snyder. "Not only am I very grateful for what this network has provided me, but I also love to tell anyone who will listen that it is a wonderful organization to be part of, and the management of the FASTSIGNS network is second to none."
Parsons and Snyder were also recently recognized at the FASTSIGNS International Convention with the FASTSIGNS Award, the most prestigious recognition in the franchise, presented to the franchisees who best represent the FASTSIGNS brand in their community and the network. With years of experience in the FASTSIGNS network, Parsons and Snyder purchase FASTSIGNS centers that are for sale to help them become high-performing locations. Today they own centers in Austin and Corpus Christi, Texas; Fort Myers, Florida; Charleston, South Carolina; Tucson, Arizona; and Raleigh, North Carolina.
"Franchisee of the Year recipients represent the best in franchising," said Matthew Haller, president and CEO of the International Franchise Association. "This is the highest honor IFA awards to individual franchisees, and local business owners like FASTSIGNS exemplify the power of franchising and its positive contributions to communities around the world."
The total investment for a FASTSIGNS franchise is approximately $233,555 to $307,308 including a $49,750 franchise fee. Ideal candidates have a net worth of $300,000, of which $80K is liquid.
Additionally FASTSIGNS offers a special incentive for veterans and first responders, including paramedics, emergency medical technicians, police officers, sheriffs and firefighters, which includes a 50 percent reduction on the franchise fee—a savings of $24,875.
—Press Release