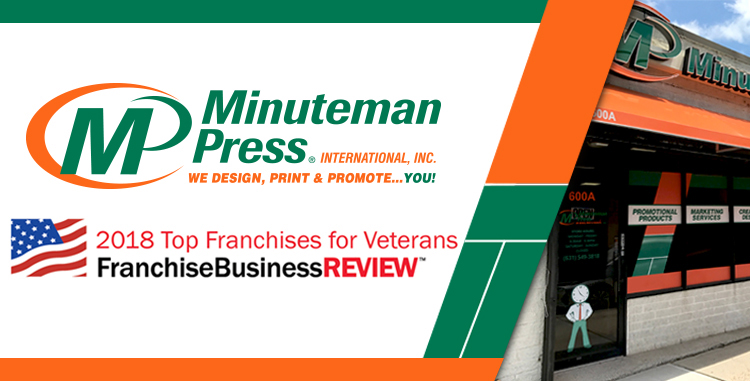 Minuteman Press International, a leading world-wide design, marketing, and printing franchise, was identified by independent franchisee satisfaction research firm Franchise Business Review as a qualified selection for its 2018 Top Franchises for Veterans list. This is the second consecutive year that the Minuteman Press franchise system has been awarded this prestigious honor, which is based solely on franchisee feedback.
"We are proud to have Veterans all across our system that joined the Minuteman Press franchise family after proudly serving their country," says Bob Titus, Minuteman Press International President & CEO. "To be able to be named a Top Franchise for Veterans for the second straight year as a direct result of their input speaks volumes about their belief in us and our continuing efforts to help all of our owners thrive."
Here is what three Veteran franchise owners and their families have to say about their experiences with Minuteman Press International: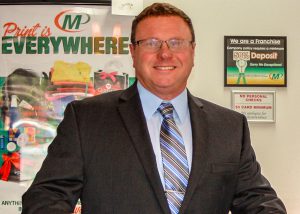 David Farmer, Chester, Virginia
"I am a retired firefighter/ paramedic with over thirty years of public service. I also served eleven years in The United States Marines Corps Reserves. I was honored to serve eighteen months of active duty post 9/11. I chose Minuteman Press because of the positive experiences that I have with the company. I utilized the services of the Chester store on numerous occasions and for different organizations. I was impressed with the ability of the store to assist me in creating my projects.
"The franchise seemed to care about each customer and worked hard to satisfy my needs. Minuteman Press has been there for me along each step of the process. The initial training is excellent. The support and service from the field representatives is ongoing and positive. I know that assistance is a phone call away."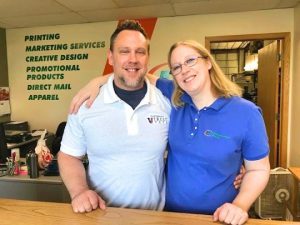 Katie and James Lawrence, Ham Lake, Minnesota
"James has a business degree from UW-Stout. I earned my Bachelors of Fine Art with a concentration in Graphic Design from UW-Stout. James and I met while attending college and later got married. James is an Army Airborne Veteran and also served a tour in Iraq with the Wisconsin National Guard. After his tour, he worked in staffing and other business related jobs. I landed my first job at a small print shop in Minneapolis and always stayed in printing. I was looking for employment at another print shop at the time and I actually started by working for another owner.
"The opportunity presented itself to purchase and we jumped on it. I always thought Minuteman Press was 'doing it right' and this has been proven to me again and again. The buying power of the franchise and the ability to legitimately vet vendors to give them the 'Minuteman approved' stamp makes our job really easy. I also love that we can rely on other Minuteman Press franchisees like a family and that we are not out on our own."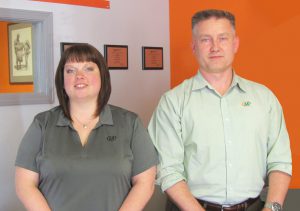 Mason Hutton, Dayton, Ohio
"While assigned as a paratrooper at Ft. Bragg, I learned the challenges of decision making under pressure. I served in various roles and deployed to multiple countries, earning my stripes the old‐fashioned way with hard work and determination—constantly seeking self‐improvement to achieve new success. I opened Minuteman Press in Dayton one year ago in 2017. I had exactly zero years of experience. Although Minuteman Press was not the first franchise I reviewed, it is the one I selected to be a part of. The franchise has a great respect for establishing family time and makes that fact well‐known.
"Another attractive point is the latitude that I have as an owner – to promote my shop, to work within the community, and to offer competitive prices. Finally, the franchise fee and monthly royalty cap were equally significant factors in choosing Minuteman Press."
About Franchise Business Review
Franchise Business Review, a market research firm that performs independent surveys of franchisee satisfaction, provides the only ranking of franchises based solely on actual franchisee satisfaction and performance. Franchise Business Review publishes rankings of the top franchises in its annual Guide to Today's Top Franchises, as well as guides throughout the year ranking the top franchises in specific sectors.
To identify the companies on the 2018 Top Franchises for Veterans list, Franchise Business Review analyzed 18 months of data from over 26,000 veteran franchise owners representing over 250 brands regarding their overall satisfaction with their brands and their likelihood to recommend them to others.
Minuteman Press franchise owners were surveyed on thirty-three benchmark questions about their experience and satisfaction regarding critical areas of their franchise systems, including training & support, operations, franchisor/franchisee relations, and financial opportunity.
"The reality is that very few of the thousands of franchise opportunities available today are rated highly by their franchise owners," said Eric Stites, founder and CEO of Franchise Business Review. "That's the whole reason we do what we do, which is help prospective franchisees understand which franchises are the top opportunities based on the actual performance and satisfaction of franchise owners. The eighty companies named in this year's report received the highest ratings from the Veterans that own them on our independent satisfaction survey."
For more information, visit http://FranchiseBusinessReview.com.