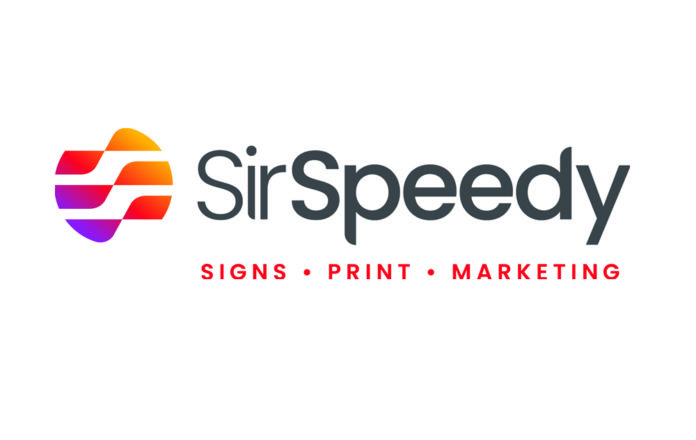 Sir Speedy—a signs, print, and marketing services provider in business since 1968—has introduced a new logo that underscores the brand's renewed commitment to advancing business communications and delivering an exceptional customer experience.
"Sir Speedy has always been an industry leader, and we felt it was time to update our look to reflect our evolution as a provider of a full spectrum of marketing solutions," said David Robidoux, chief marketing officer of Franchise Services Inc., the parent company of Sir Speedy. "The new logo is symbolic of our commitment to innovation and delivering superior, personalized service to a broad range of clients."
With its vibrant colors and appearance of movement, the new logo pays homage to Sir Speedy's history as a quick printing business while reflecting its evolution into a full-service marketing services company offering comprehensive design and print services; sophisticated signage and business graphics; direct mail and mailing services; labels, promotional products, fulfillment and more.
Evan Bloom, owner of Sir Speedy in Westbury, New York, says the new logo comes at a transformative time for the brand, as it continues to find new ways to use technology to enable satisfying customer interactions. "The logo reflects the image of what we want our brand to represent today: a contemporary, friendly, helpful, comprehensive go-to brand that puts the customer experience first," Bloom said.
"Sir Speedy has always been an innovative brand," said Richard Lowe, president and chief operating officer of Franchise Services Inc. "We were early adopters of Macs, digital printing and online ordering, and we continue to embrace the latest tools and technologies to ensure that delivering a great customer experience remains at the heart of everything we do."
About Sir Speedy
Sir Speedy is a signs, print, and marketing services provider that specializes in the creation and execution of growth-oriented solutions for small- to medium-sized businesses.
Through a worldwide network of independently owned and operated franchises and affiliates, Sir Speedy offers robust digital and offset printing, variable printing, interior and exterior signage, direct mail and mailing services, fulfillment, finishing and binding, promotional products, graphic design, tradeshow and event marketing, and websites, including online ordering portals. Advanced solutions include integrated marketing campaigns, labels, packaging, video assistance, social media and mobile marketing.
For more than fifty years, Sir Speedy has led the industry by offering innovative brand communication solutions.
—Press Release