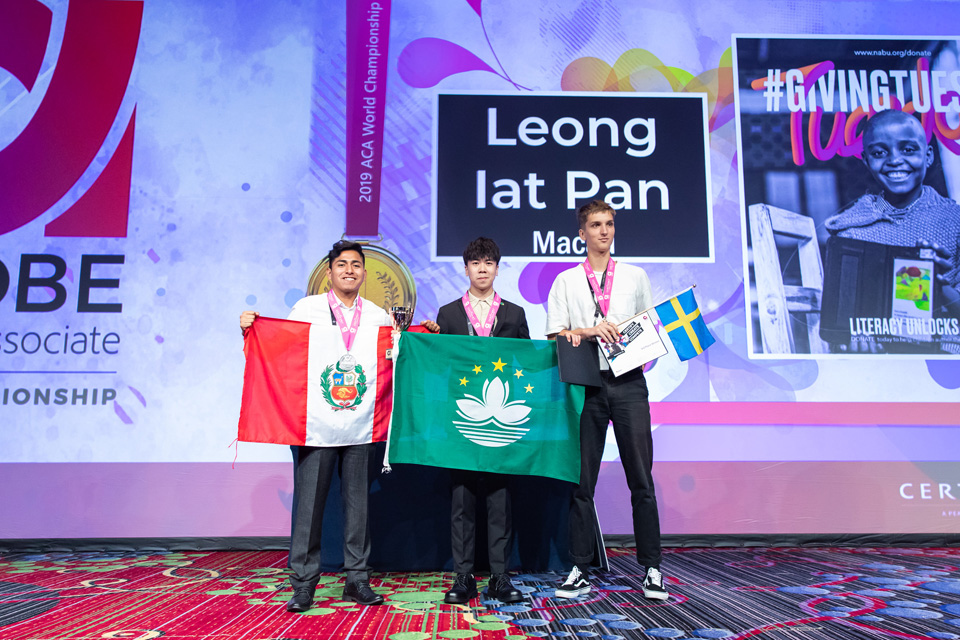 The winners of the 2019 Adobe Certified Associate (ACA) World Championship have been announced by Certiport, the leading provider of performance-based IT certification exams that accelerate academic and career opportunities for learners. In its 7th year, the ACA World Championship competition attracted more than 130,000 contestants from 65 countries to prove their superior digital communications skills using Adobe Photoshop, Illustrator, and InDesign.
Leong Iat Pan, a twenty-one-year-old from Macau won the top prize out of fifty finalists who came to the final round of competition at the New York Marriott Marquis in New York City, New York from July 28-31. He was sponsored by Certiport's partner in Macau, Welkin Systems Limited.
The 2019 ACA World Champions are as follows:
First place, Leong Iat Pan, Macau
Second place, Frank Romero, Peru
Third place, Kevin Johnson, Sweden
Fourth place, Qiuyu He, China
Fifth place, Stijn Van Leest, The Netherlands
Sixth place, Joseph André Zarpán Coloma, Peru
Seventh place, Lin Wan-Ching, Taiwan
Eighth place, Evelyn Mendoza Soto, Colombia
Ninth place, Teeraphat Kansomngam, Thailand
Tenth place, Sakyuki Kobayashi, Japan
People's Choice Award (winner as voted by attendees), Nguyen Thanh, Vietnam
Finalists demonstrated their proficiency using industry-leading Adobe Creative Cloud software to design three marketing assets in just a few short hours for non-profit client NABU. NABU aims to eradicate illiteracy through an online reading platform.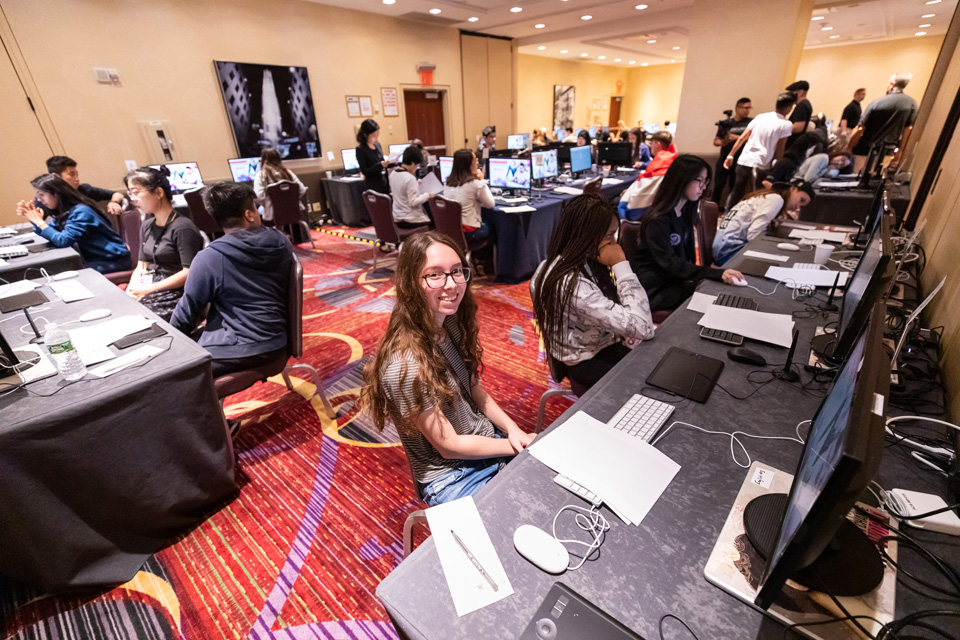 "All of the entries demonstrated a clear aptitude for digital design, and Leong's designs were the assets we felt best shared our message," said Isabel Sheinman, Co-Creator and Director, NABU. "We were incredibly impressed by the professional-level work these students did in just one day—which proves they can follow client instructions and use both their innate design abilities and the Adobe skills they've learned in school to create something amazing. We are grateful we got to work with them to further our message of creating local language stories to help children learn how to read."
A panel of judges including NABU and design industry experts reviewed the final projects and determined the winners based on visual appeal, their ability to meet the client's requirements and brand aesthetics, and their professional usage of the Adobe Creative Cloud applications. The first-place winner received $7,000, second $3,500, and third $1,500.
"The ACA World Championship is a visual treat," said Ray Murray, Vice President and General Manager – IT, Pearson VUE. "When you see what these finalists created in just one day you know they have a deep grasp of digital design concepts and can put their Adobe skills to use in a real-world setting."
"We enjoy participating in the Adobe Certified Associate World Championship every year, not only to see the wonderful projects created, but also to meet ambitious, creative students who are launching their careers with industry-recognized certifications," said Tacy Trowbridge, Global Education Programs Lead at Adobe. "Seeing what the competitors produced for NABU in just one day gives us just a taste of their talent. Over the years we've watched many of these finalists go on to jobs and internships in creative fields, proving the value of the design and technical skills that they learned in the classroom."
Next year, Certiport will host the 2020 ACA World Championship at Disney's Grand Californian Hotel in Anaheim, California.
About Certiport
Certiport is the leading provider of learning curriculum, practice tests, and performance-based IT certification exams that accelerate academic and career opportunities for learners. Certiport provides certification development, delivery, and program management services through an expansive network of more than 12,000 Certiport Authorized Testing Centers worldwide. More than 3 million Certiport exams are delivered in 26 languages across 148 countries each year throughout the academic, workforce, and corporate technology markets. Certiport is a Pearson VUE business, and is a part of the world's leading learning company, Pearson. To learn more, go to certiport.com.