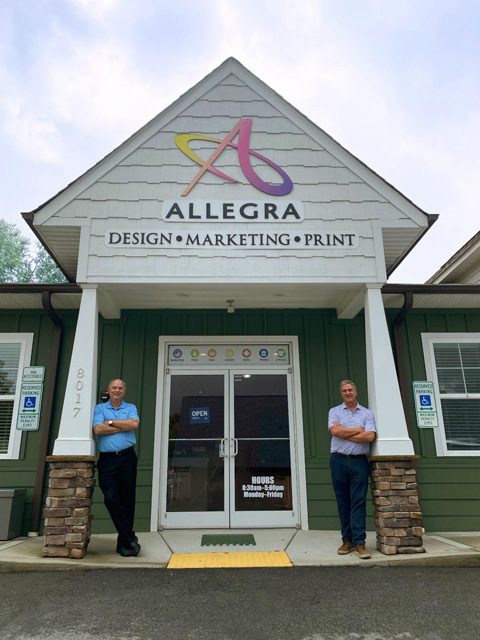 One of the country's oldest printing companies has merged with one of the Triad's most technologically sophisticated marketing, mailing, and printing companies after 150 years as a family-owned business. Goslen Printing, headquartered in Winston-Salem, North Carolina, and Allegra Marketing Print Mail, also of Winston-Salem, have come together to serve nearly 1,000 businesses.
The Allegra operation in Winston-Salem is part of a franchise network founded in 1976. Allegra's president, Perry Clark, and his wife, Kelli Clark, acquired their franchise in 2007 after years of working in the printing, display, and packaging businesses.
"Starting Allegra allowed me to come back to Winston-Salem after years of being on the road in the printing and promotions businesses and living in New Jersey," said Perry. "We learned that the strongest growth opportunity in our industry comes from acquisition of new talent, technologies and resources. Goslen will be our fifth strategic acquisition.
"We are much stronger together."
About Goslen
A mere fifty years after the first printing press came to Winston-Salem, Junius Waitman Goslen started his printing business in 1872 with a wood-fed, steam-operated printing press to publish newspapers and other commercial printing projects.
For the past 150 years, the company continued as a successful family business with four generations of Goslens involved. The company has been known for notable projects including the printing and publishing of Blum's Farmer's and Planter's Almanac, as well as other garden and weather products that continue to be printed today.
"We are proud of our longevity and strong history of printing in Winston-Salem," said Mark Goslen, president of Goslen Printing. "We feel fortunate that our legacy of consistent service and quality will be continued through our new partnership with Allegra. We will continue to operate out of both locations for the next several months while merging our operations."
The Future
Printing services account for an estimated $178 billion in annual sales in North America.
"As we look at the future of printing, marketing and related services, diversification is the key to success," added Clark. "Allegra uses the newest advancements in technology that provide a competitive advantage. For instance, we have an all-new platform that features an advanced and scalable cloud-based management information system (MIS) with an intuitive interface that integrates an e-commerce storefront technology and a prepress portal. With this technology, no one can make direct marketing any more precise or easier.
"Also, the addition of Goslen's expertise will now allow us to better serve businesses of all sizes."
Both companies have been very active in the local community helping non-profits with their ongoing events.  For example, Allegra's FootPRINT Fund® helps nonprofits by donating $20,000 annually in free print, marketing, and mail services to local, community-based organizations.
—Press Release