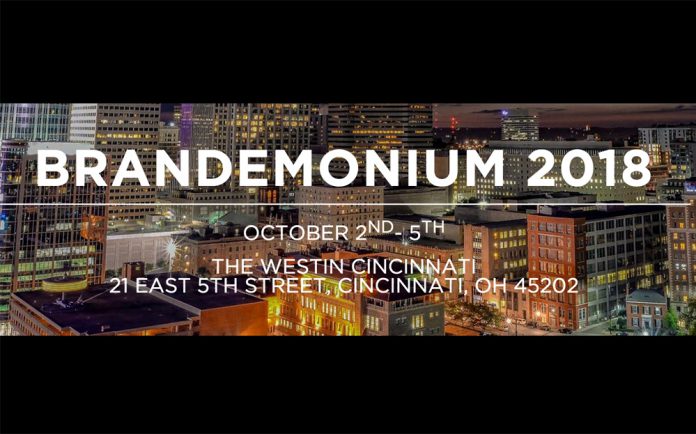 Applications are now open to prospective exhibitors and interested volunteers for the international brand conference and festival Brandemonium, presented by 84.51º, returning October 2-5, 2018, at The Westin Cincinnati. Included among Forbes' list of Marketing Conferences to Check Out in 2018, Brandemonium's lineup will feature a keynote from L2 Founder and New York University Professor of Marketing Scott Galloway, alongside dozens of others in the marketing and branding industries. The full current lineup is included below.
Emphasizing consumer experiences, Brandemonium's conference aspect will include keynotes, panels, case studies and workshops to allow brands, retailers, agencies, and marketing consultants to immerse attendees in all aspects of their brand. The festival aspect furthers this initiative, giving brands an opportunity to engage while "taking over" the city with brand activations including installations, performances, lounges and more.
Volunteer Opportunities – Apply by September 14!
Volunteer applications are now open for Brandemonium, including the check-in team and social media team. Volunteers will be able to attend some conference sessions and will receive a t-shirt. Volunteers must be 18 or older. Applications are due by Friday, September 14 at 5 p.m. and available here: https://bit.ly/2BJOWTN.
Exhibitor Opportunities – Apply by September 14!
Brandemonium is a great opportunity to reach decision makers and buyers in the world of branding. With over 1,000 attendees, exhibiting at the conference is a real value. Interested applicants may register for consideration at https://bit.ly/2BJOWTN by Friday, September 14 at 5 p.m.
Activation Opportunities – Submit for Consideration by September 17!
Activations can be installations, exhibits, takeovers, pop-up shops, after-parties, or anything brands and agencies dream up. The Brandemonium Experience Awards will recognize the best activations among six categories. To register for consideration by September 17, email [email protected] or visit brandemonium.com.
New in 2018
The 2018 conference will offer attendees a streamlined approach allowing them to better tailor their experience to their interests, expertise, industry, and more. Conference sessions will be focused on five tracks including:
Strategy
Omni-channel & Retail
Data & Technology
Content & Design
Brand Activations & Experiential Marketing
The conference schedule is available now at brandemonium.com. Attendees can also download the new Brandemonium mobile app for on-the-go access to the schedule, updates, and more.