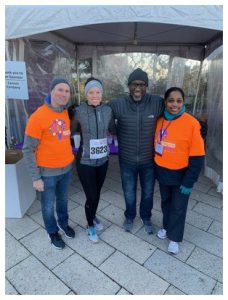 Canon Solutions America, Inc., a wholly owned subsidiary of Canon U.S.A., Inc., announces its continued support of the BT5K New York City Run & Walk, held November 11, 2018 as part of the American Brain Tumor Association's (ABTA) annual Breakthrough for Brain Tumors 5K series. For the second consecutive year, Canon Solutions America joined esteemed healthcare organizations, the Healthcare Leaders of New York, as well as over 2,000 participants, to help ABTA successfully achieve its fundraising goal of $700,000.
About the BT5K Run & Walk
The BT5K Breakthrough for Brain Tumors Run & Walk is the ABTA's signature fundraising event, taking place in cities coast to coast.
This year, over 12,735 participants and 907 teams in nine cities made up the BT5K Run & Walk. Throughout the event, participants had the privilege to hear from courageous survivors, caregivers, and medical professionals who continue to bring awareness to the ABTA.
Canon Solutions America's support, along with the help of hundreds of other sponsors, allows ABTA to fund critically needed brain tumor research, patient programs, and support services for the 700,000 Americans currently living with a brain tumor diagnosis.
Returning to This Year's BT5K
"We are extremely grateful for Canon Solutions America's return to the BT5K New York City Run & Walk and the company's ongoing commitment to help ABTA fulfill its mission," said Leslie Crouch, advancement director at the ABTA. "Thousands of families across the nation are affected by brain tumor diagnoses, and the generous contributions made by Canon Solutions America will have a significant impact on the lives of brain tumor patients, their caregivers, and their loved ones as they go through this journey together."
"As survivors and family members told us, brain tumors do not discriminate. HLNY was once again proud to volunteer and run for such a worthy cause," said Tim Gorton, president, Healthcare Leaders of New York. "Moreover, HLNY board and its members enjoyed the morning talking and collaborating with one of our valued corporate sponsors, Canon Solution America."
Peter Kowalczuk, president of Canon Solutions America, said, "Having the opportunity to be a part of this great cause alongside prestigious organizations that share our values and commitment toward helping the community has been a truly rewarding experience. We are very thankful to be in a position that allows us to support charitable organizations that are making a real difference in the world. It's been a pleasure working with ABTA and we hope to continue to help support this community for years to come."
About Canon Solutions America, Inc.
Canon Solutions America provides industry-leading enterprise, production, and large format printing solutions, supported by exceptional professional service offerings. With the technology offerings of the Canon and Océ brands, Canon Solutions America helps companies of all sizes find ways to: improve sustainability, increase efficiency, and control costs in conjunction with high volume, continuous feed, digital and traditional printing, and document management solutions. A wholly owned subsidiary of Canon U.S.A., Inc., Canon Solutions America is headquartered in Melville, New York and has sales and service locations across the U.S. For more information on Canon Solutions America, please visit csa.canon.com.