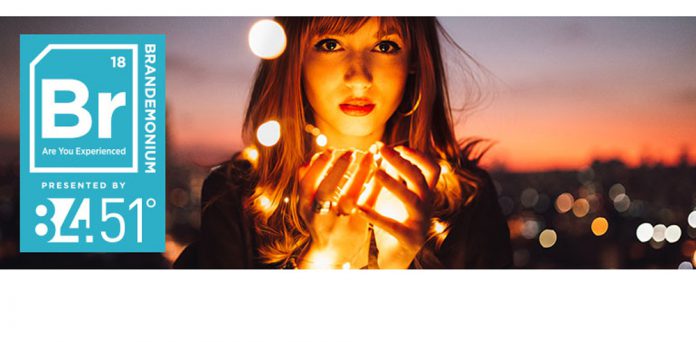 Additional speakers are now unveiled as part of the lineup for the international brand conference and festival Brandemonium presented by 84.51°, returning October 2-5, 2018, at The Westin Cincinnati. Included among Forbes' list of Marketing Conferences to Check Out in 2018, The Brandemonium lineup will feature a keynote from L2 Founder and New York University Professor of Marketing Scott Galloway, and newly announced additional key speakers including 84.51°'s Bob Welch, goPuff's Daniel Folkman, Suzy founder and CEO Matt Britton, Unilever's Steve Schumacher, Big Ass Fans founder Carey Smith, Mathew Sweezey of Salesforce, and John Trebbien of Procter & Gamble.
Emphasizing consumer experiences, Brandemonium's conference aspect will include keynotes, panels, case studies, and workshops to allow brands, retailers, agencies, and marketing consultants to immerse attendees in all aspects of their brand. The festival aspect furthers this initiative, giving brands an opportunity to engage while "taking over" the city with brand activations including installations, performances, lounges and more.
"The conference is about the evolution and future of branding, but the festival actually shows it," said Brandemonium Co-Founder Bill Donabedian. "Today's consumer is more interested in experiences, and we are really looking forward to the return of Brandemonium and placing brands and their creativity center stage. We started talking with (keynote speaker) Scott Galloway almost a year ago, and we're excited to have him challenge attendees' views about branding."
New in 2018
The 2018 conference will offer attendees a streamlined approach allowing them to better tailor their experience to their interests, expertise, industry and more. Conference sessions will be focused on five tracks including:
Strategy
Omni-channel & Retail
Data & Technology
Content & Design
Brand Activations & Experiential Marketing
Sponsors The E.W. Scripps Company and Newsy will also curate a panel during the event.
The current Brandemonium lineup includes the following, with big announcements surrounding more keynotes, speakers and panelists to be released soon:
Keynote: Scott Galloway, L2 founder and NYU marketing professor
Bob Welch, Senior Vice President, Customer Communications & Media, 84.51°
Daniel Folkman, VP Business Development – goPuff
Matt Britton, Founder, CEO – Suzy
Steve Schumacher, VP Sales – Unilever
Carey Smith, Founder – Big Ass Fans
Mathew Sweezey, Principal of Marketing Insights – Salesforce
John Trebbien, Associate Director, Global Business Development – Procter & Gamble
Jim Taylor, CMO – Arby's
Joe Saracino, VP Brand Strategy – Chick-fil-A
Adam Weber, CMO – Everything But The House
Tom Kunz, SVP and Dir. of Payments Technology – PNC
Anne Bahr Thompson, author – "Do Good"
Amy Balliet, CEO – Killer Infographics
Rachel Chambers, Sr. Brand Director – Perfetti Van Melle
Brian Rudie, Brand Director – Perfetti Van Melle
Ethan Goodman, SVP Innovation – The Mars Agency
Scott Beck, Coordinator, Analytics Program – Xavier
Drew Boyd, Executive Director, Marketing Program – University of Cincinnati
Matt Butler, Founder – Signature Hardware
Jeffrey Cripe, CEO – Cargo Systems Inc.
Colin Crotty, CEO – HyperQuake
Joe Feiertag, Marketing Manager – CVG
Jason Hargis, Group Director, Creative – Spicefire
Bhavik Joshi, Strategy Director – LPK
Candace McGraw, CEO – CVG
Rob Michelson, Co-President – Bradshaw Home
Winston Peters, Business & Brand Consultant – MyÜberLife Consulting Group
Clint Schertzer, Chair, Department of Marketing – Xavier
Paul Smith, Managing Director – Story Makers
Michael Stich, Chief Business Officer – VML
Michael Stone, Co-Founder and Chairman – Beanstalk
Helen Todd, Co-founder & CEO – Sociality Squared
Jey Van-Sharp, Business/Brand Consultant – MyÜberLife Consulting Group
Jamey Wagner, Executive Creative Director – Interbrand
Jeff Wampler, Chief Brand Ninja – Ninja House
Schedule
Tuesday, October 2
Things kick-off at 7 p.m. with a social event, complimentary drinks, food, and music.
Wednesday, October 3
Complimentary breakfast followed by the first keynote at 8:30 a.m. Speakers and panels throughout the day, followed by Happy Hour at 5:30 p.m. The festival aspect takes place 7 p.m.-10 p.m.
Thursday, October 4
Repeat! Complimentary boxed lunch provided. Happy hour and festival are all in walking distance.
Friday, October 5
Complimentary breakfast and networking event provided for attendees leaving town later in the day.
Participant Information and Conference Registration
The festival aspect is free to the general public. Registration is now open to attend or exhibit at the conference, as well as submission opportunities for brand activation or sponsorships. Conference registration pricing (plus applicable tax) below:
Early Bird – $399 through June 1 or while supplies last
Tier 1 – $499 until August 31 or while supplies last
Tier 2 – $599 until October 1 or while supplies last
Walk-up – $699
To register, submit interest for consideration, or view the current list of participants, visit brandemonium.com.