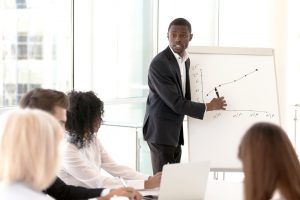 In developing a sales strategy, one size does not fit all. You must customize your strategy to the specific requirements of the account because each business opportunity is different.
The personalities from one account to another will be different. The needs and problems facing each business will be different. And the buying process at each company may be different.
You need to identify the role that the person that you are meeting with plays in the buying process. Who has the authority to spend the money on the sale?
In a fleet graphics sale, many different people could get involved in the decision-making process: the fleet manager, the marketing director, an advertising manager, or the president or general manager.
How you structure your questions may differ, depending on the type of person that you are meeting with. For a fleet manager, your questions may revolve around the implementation of the program. You may be asking about past problems that occurred with their graphics or when the vehicles will be available.
For a marketing manager, your questions might be built around new product introduction, new advertising themes, and any changes in the company logo or corporate identity. For a general manager, ask about the challenges that the company is currently facing (such as changes in the industry or competitive threats).
Understand the dynamics within the account and discover the process that the company goes through in making a buying decision. Many different people can influence a sale, and you need to know who these players are and, if possible, engage with these people.
A good way to gain an insight here is to use a top-down selling approach: make your first contact at the target account as high up as you can possibly go. In many medium-size companies, the president is often accessible. No one is better qualified to understand who gets involved in a graphics program than the top guy. He can direct you to the right people to see.
Now you have a key to unlock any door. In setting an appointment, all you need to say is, "I was talking to Mr. Jones about your company's fleet graphics program, and he told me you were one of the people that I needed to talk to. I am going to be in town on Wednesday and Thursday next week. Which day would be better for you to meet?"
After you settle on a day, ask if the morning or afternoon is better and then suggest a time.
You should construct your presentation around challenges that their organization faces. Your proposal should first summarize the prospect's marketing objectives and unmet needs and business problems and then explain how your graphics program provides a solution.
In presenting a vehicle graphics or environmental graphics program, keep the program simple for the customer. Executives do not need any additional responsibilities added to their plates. The program that you develop should be as turnkey as possible, covering all aspects in its implementation.
In selling a major corporate graphics program, one of the key objectives is to help the prospect realize how the success of the project will promote his stature within his organization.
Your proposal should be comprehensive enough to anticipate the prospect's questions and concerns regarding the design, manufacturing, and implementation of the program. In addition to your proposed solutions, demonstrate how your program will deliver a return on the prospect's investment. You should explain those financial rewards in terms of how you can save the prospect money or increase sales and profits.
Be prepared for customer objections. In addendum to your proposal, you may want to include support for your claims by providing evidence for your case.
Documentation is powerful in persuasion because people believe the written word. Photographs are also highly effective. If there is a problem with the prospect's current graphics program, such as edge peeling, fading, or inconsistent application of the corporate imagery, document your claims with pictures.
Demonstrations are also effective. In selling truck graphics with conspicuity markings, I often conducted demonstrations using mockups of the proposed design using retro-reflective films.
For those of you who are apprehensive about directly asking for the order, asking these questions is the easiest way to seal a deal: How do you feel about the designs that I have shown you? What are the next steps that we need to take? When would you need to have the graphics delivered? What haven't I explained in my proposal that is important to you?
All these questions are open-ended and cannot be answered with a simple "yes" or "no." These questions encourage the prospect to open up and talk.
Once you get an answer, ask for a commitment in the following way. "We can get the program started contingent on your approval of full-size production art and color match."
Write that condition of approval on the order. "All I need is your OK." Then hand the prospect a pen.
Explain to the customer that he or she has no obligation until the artwork and colors are approved. This makes the closing process easy for the both of you.
By Jim Hingst