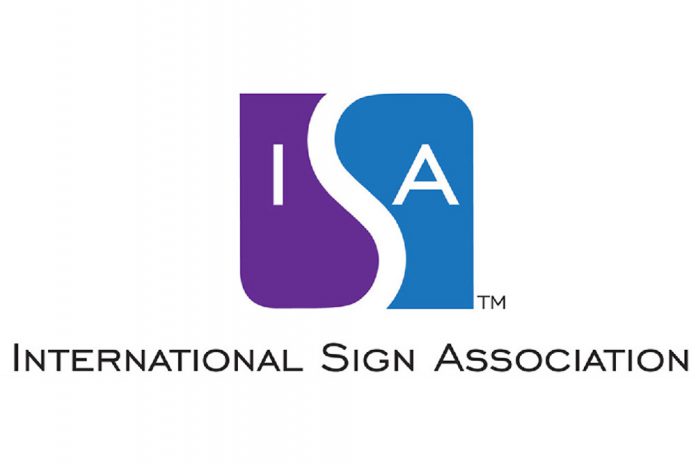 According to the ISA Sign Industry Economic Report, prepared in December and sponsored by the National Association of Sign Supply Distributors (NASSD), the overall U.S. economy remains strong with an above-average growth expected through 2019, despite a number of challenges to its health. Trade wars, diminishing confidence, tightening labor and product markets, rising interest rates, and inflation all are tamping down on growth projections.
That said, sectors that have enjoyed robust growth in previous years may notice a slowing of growth in 2019—though each of the four main sign industry sectors is expected to remain in positive territory.
The ISA Sign Industry Economic Report assesses four segments of the industry: two supplier markets (printing and electrical/digital signage) and two end markets (electric/digital signage and architectural signage). It also forecasts commodities. The report, compiled by IHS and Vandiver Associates, analyzes each segment of the market upstream and downstream to allow users to stay current with evolving business conditions.
Highlights of the ISA Sign Industry Economic Report
By 2020, real gross domestic product will subside to 2.0 percent and further dip to 1.6 percent in 2021.
Globally Europe's growth is challenged by political uncertainties and weakening global trade dynamics. In China, growth is impacted by U.S. tariffs and excess capacity, though government stimulus is expected to offset the impact. Markets like Turkey, Argentina and South Africa, which rely heavily on external finance, are vulnerable.
Steel prices create a buying opportunity both domestically and in Europe. But the authors warn that the price of Chinese steel may bottom out in January or February.
Lumber prices also are dropping both in the U.S. and Canada, with 2019 prices for softwood lumber lower than in 2018.
In supply side printing, 2019 is expected to bring a slight slowing, but the overall segment will continue to grow at above-average rates. Supply side electrical/digital also anticipates a weaker 2019.
The end market for electrical/digital will grow, though that growth will be less robust than in 2018. The same is true for the end market for architectural signs.
More Information
Those interested in learning more about the ISA Sign Industry Quarterly Economic Report, including how 2018 performed and the outlook for 2019, can participate in a free webinar hosted by ISA at 2 p.m. ET/11 a.m. PT Wednesday, January 23.  Register at www.signs.org/webinars. The webinar is free for ISA, ISA Affiliated Association, or NASSD members or $100 for non-members.
The report also is free for ISA, ISA Affiliated Association, and NASSD members. Non-members may purchase it for $1,000 per quarterly forecast. This research can be accessed at www.signs.org/quarterlyreport.