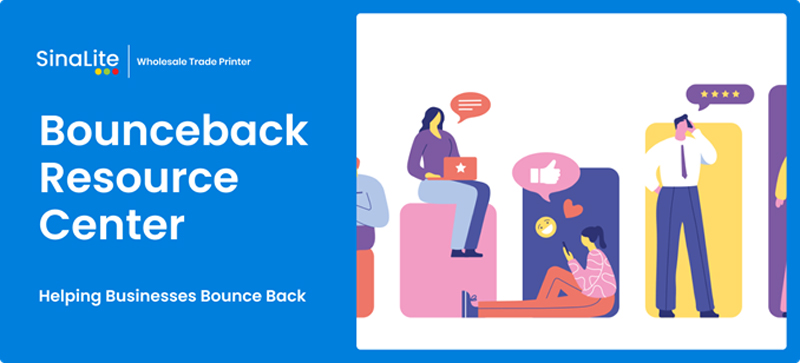 To help the print community bounce back during this time of economic recovery, SinaLite has created its Bounceback Resource Center. Launched at the end of May, it is a page on the SinaLite Web site that houses a number of timely resources. All of these resources are free to download, even for those who do not have a SinaLite account.
The resource center contains a variety of materials including sell sheets, product images, webinar recordings, product guides, how-to guides, and useful links. Users can learn how to create a cold calling strategy, discover what to sell to restaurants, download high-resolution images for their Web site, and more.
Serving print providers and print resellers, SinaLite created the resource center to help these businesses save time and money, as well as gain the knowledge they need to maximize their print sales during this important period of growth. The resources offered are especially helpful for print shops, print brokers, and sign shops. SinaLite hopes that this resource center will help local businesses bounce back and see their communities flourish again.
To access all the resources in SinaLite's Bounceback Resource Center, visit the Web page here.
SinaLite plans to continue to provide support for the print community through their wholesale trade printing services and resources. Visit their Web site for more information.