In our February 2019 issue, we presented our recent conversations with some notable sign makers thirty-five years old or younger who are making their mark in the sign industry either through sales, fabrication, installation, and/or management ("Sign Makers: The New Crew", sponsored by Yorston & Associates).
This demographic is the future of our industry. These young sign professionals explain, in their own words, their views on the biggest challenges they've encountered in the industry, their opinions on why the sign industry is an attractive career for younger people, and their advice for how shops can recruit this new generation of talent.
This unabridged article spotlights one of our selected Young Sign Makers of 2019, Michael Seibert, and begins with a brief bio before moving into their views of the industry.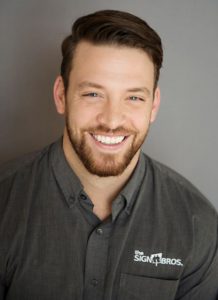 Michael Seibert (The Sign Bros, Inc. of Athens, Georgia)
Along with his brother, Justin Seibert, Michael Seibert is the co-owner of The Sign Brothers, LLC, a company founded back in what he describes as "beautiful, funky" Athens, Georgia twelve years ago. His shop has grown by constantly developing and adding to their in-house capabilities—evolving from a print-only shop to a professional-grade sign company replete with flatbed and roll-to-roll printing, CNC routing, a dedicated wrap booth, a paint booth, and four bucket trucks.
Primarily I enjoy the mix of creativity and functionality that our industry offers. To be able to design and make something that is useful to another organization is intrinsically rewarding. There are so many services in our economy, and I think the sign industry finds itself in the unique niche of both service and custom product. It's great to have your work on display that one can point to and declare, "we made that."
Our biggest accomplishment to date has been our recent expansion into the Experiential Graphic Design (EGD) arena, where we've had the opportunity to design, produce, and install some of our most engaging work.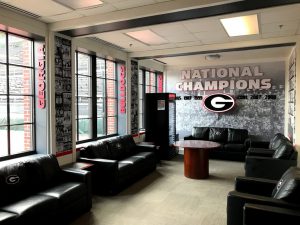 We just finished renovating some space at the University of Georgia (UGA) for its Track & Field team, whose Men's and Women's teams won the 2018 Outdoor and Indoor National Championships, respectively. Our EGD package of interior graphics and signage was able to highlight many of those student-athletes and their accomplishments. This new space for UGA will help to recruit talented athletes to their program for many years to come.
Any business owner should agree that their biggest challenge is recruiting, hiring, and retaining talented people. We are very fortunate to have a highly capable team, but getting to this point has been a big challenge, for sure. When it comes to attracting younger talent to you shop, invite them to be a "maker of things." In a world full of professions like servers, advisors, and agents, it's unique to be a maker.
Unfortunately the local sign shop has a reputation for being a bit slack. Whether it is poor communication, missed deadlines, or inconsistent pricing, I would like to see more professionalism in the industry. As the industry increases the perception of its professionalism, it will recruit a generally more professional workforce.
I have also found that you will go pretty far in this industry by simply (A.) answering the phone, and (B.) doing what you say you'll do.