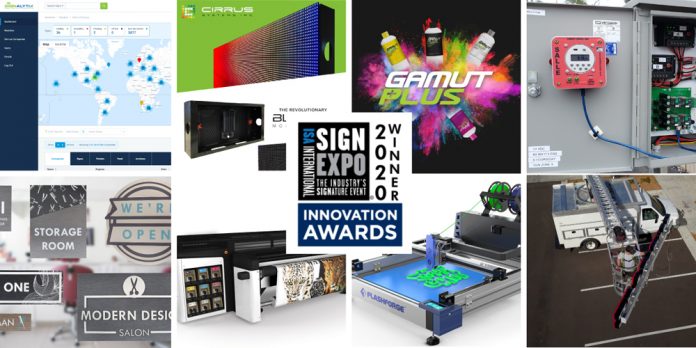 ISA International Sign Expo® 2020 will feature aisles of innovative products. But the eight ISA Sign Expo Innovation Award category winners truly are the best of the best. "Each year the competition to be named an ISA Sign Expo Innovation Award winner has increased significantly," said Lori Anderson, ISA president and CEO. "This year, we expanded the number of award categories to capture the most inventive products that truly can solve a pressing business need or push boundaries of creativity.
"With even more products and product categories, the Innovation Award winners lead the way in showcasing the many pioneering products available at ISA International Sign Expo 2020."
ISA International Sign Expo 2020 will be held April 2-4 with pre-conference workshops on April 1 at the Orange County Convention Center in Orlando, Florida. The ISA Sign Expo Innovation Award winners will be present on the tradeshow floor and will participate in the Hot Product Preview Lounge & Learn session on April 2. Winners will present their products and answer questions before participating in a networking reception.
The ISA Sign Expo Innovation Award winners for 2020, as chosen by a panel of media partners and experts are:
Business Solutions/Software
Signalytix
Booth 3937
Signalytix Dashboard Software
www.signalytix.com
The Signalytix Dashboard is an industry-first software application for the management and tracking of signage programs, serving as an easy-to-access, Web-based platform for national sign companies and their clients.
Digital Displays
Cirrus Systems, Inc.
Booth 509
Cirrus LED BladeM Module
www.cirrusled.com
Using advanced robotics and lean manufacturing practices, the BladeM LED display is made without a single wire, with nothing to corrode, detach or degrade over time. Each mod has an embedded high-speed microprocessor that has unparalleled control over every single LED, driver, firmware and other electronics within the module.
Direct Ink GamutPlus Inks are the revolutionary DTG inks by OmniPrint International, best known for successfully printing directly on 100 percent dark polyester and blends in addition to cotton garments using the award-winning FreeJet 330TX Plus DTG Printer.
The GamutPlus CMYKW ink set allows for impressive print results featuring vibrant color and solid white ink on both light and dark cotton to poly garments.
Lighting & Lighting Components
TubeLite
Booth 3900
SALLE – Solar Adaptive LED Lighting Equipment
www.jstechnologiesinc.com
SALLE is a one-of-a-kind, patented, U.L.-listed solar panel control system built specifically for the sign and lighting industry. SALLE uses industrial level control components that are common to the industry, making it easy to install and maintain by sign industry technicians.
Media & Substrates
Johnson Plastics Plus
Booth 3703
LaserMax Tri-Layer
www.jpplus.com/lasermax
LaserMax Tri-Layer is a new, innovative, engravable sheet material from Rowmark. Featuring two laser or rotary engravable cap layers, LaserMax Tri-Layer gives customers the ability to make three-color engravable signage without the need for secondary processes like painting, backfilling, or additional lamination.
Printers
HP Inc.
Booth 2700 & 3200
HP Latex R Printer Series
www.hp.com/go/latexrseries
The HP Latex R Printer Series is not only the first of its kind hybrid printer but also has many unique characteristics. First, it contains white ink – the glossiest white with high opacity that resists yellowing over time. In addition, the white ink automatic recirculation and offline printhead rotating chamber remove waste between print jobs and eliminate manual purging, saving costs. Productivity increases are driven by multi-board printing, assisted loading, and advanced queuing.
Production Technologies
FlashForge USA
Booth 4928
FlashForge AD1 Channel Letter 3D Printer
www.flashforge-usa.com
FlashForge AD1 combines with 3D printing technology to allow businesses to produce channel letters like never before. By switching to the use of FlashForge AD1 for channel letter production, a business will save at least 30 percent of time spent. No specialty 3D printer operator is needed.
The Chariot Bucket is an aerial basket with a rounded front and a rotating fork system, allowing an installer to square-up the sign to a wall with hands-free access to their work. The Chariot features upper forks for raceway signs, and lower forks for cabinet signs and large channel letters. It also features a number of helpful accessories, including pattern arms for hanging channel letter patterns, a face bar, and a banner spindle.
"While these products have truly earned the title of innovation, they are just a few of the amazing products that ISA Sign Expo 2020 attendees will see on the tradeshow floor," said Iain Mackenzie, ISA vice president of meetings and events. "The entire list of nominees is worth checking out as well."
To see additional information, including the list of finalists, about the ISA Sign Expo Innovation Award winners, visit www.signexpo.org/innovation. And to learn more or register, visit www.signexpo.org.