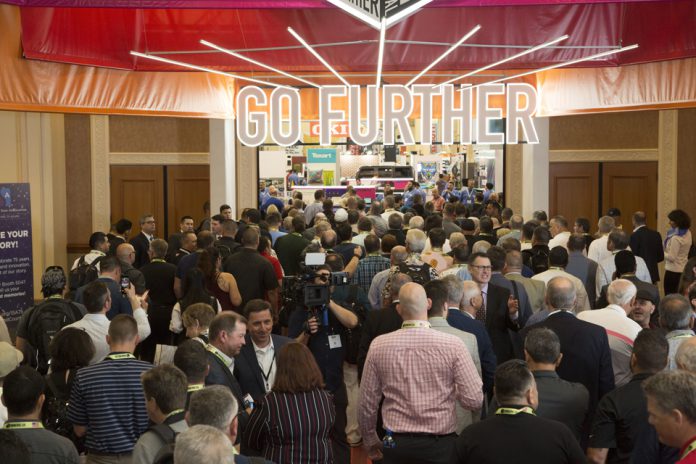 ISA International Sign Expo 2019 dealt a winning hand in Las Vegas, closing with an attendance of 20,600, surpassing the 2017 event. But the event was about more than numbers, as it provided business-building ideas and products to help sign, graphics, print, and visual communications companies deliver innovative and exciting projects. The 235,000-square-foot tradeshow floor marked the first time to see many new products, ranging from new printers to new software.
Exhibitors reported increased attendee traffic and many purchases of new equipment. Many exhibitors sold all the equipment in their booths. Most noted that they met customers who were new to the sign and graphics market, looking to expand what they offered.
In addition, pre-conference workshops that focused on key learning areas and business expansion ideas were popular with attendees. In all, educational sessions were well attended, particularly in company packages (which increased 150 percent over the 2017 event). Company packages allow all registered employees from one company location to attend an unlimited number of education sessions at the show—building on expertise throughout the operation. Genius packages, which allow unlimited education sessions for one attendee, were up 50 percent over 2017.
ISA International Sign Expo® remains the only tradeshow dedicated primarily to the sign, graphics, print, and visual communications industry. Attendees could explore all facets of signage and print. In addition to the products and education, the event included a number of opportunities to maximize connections:
Women Leading the Industry (WLI) networking breakfast.

Women Leading the Industry (WLI) launched with a networking breakfast that drew a capacity crowd. The initiative, in partnership with Sign Builder Illustrated, will be ongoing.

More than 50 planners attended a Planning for Sign Code Success™ event, hosted by the Sign Research Foundation. The session allowed attendees to learn more about signs, graphics and visual communications. Planners remain a key factor in whether signs are permitted and educating them about the technology and the industry has proven to positively impact local sign codes.
The Sign Research Foundation also saw incredible success in its education sessions, more than tripling attendance over previous years. SRF has co-located with ISA Sign Expo for the past three years.
More than thirty-five designers, buyers, and architects attended, learning how to foster more creative sign projects. The XDP (or Cross Disciplinary Program) is now in its seventh year at ISA Sign Expo and has included more than 300 participants. Past participants have noted that they are more likely to spec products that they see on the ISA Sign Expo tradeshow floor.
A number of co-locations brought additional segments of the industry. Xplor19, Signarama, and APTech all hosted events at ISA Sign Expo.
ISA marked its seventy-fifth anniversary with a forward focus on products and innovations expected to transform the industry in the coming years. Attendees could explore opportunities in textiles, holographic signs, AI and virtual reality on the tradeshow floor.
"ISA International Sign Expo 2019 unites the sign, graphics, print and visual communications companies and provides ways they can grow their business through new products and ideas," said Lori Anderson, president and CEO of the International Sign Association®. "Powerful connections were made, new products were purchased, and insights gained. I can't wait to see what attendees come up as a result of taking a few days away from the office to focus on growing their businesses."
Building on the excitement, ISA announced plans to co-locate International Sign Expo with Impressions Expo (formerly Imprinted Sportswear Shows) in 2020 at the Orange County Convention Center in Orlando, Florida. The ability to explore opportunities in textiles and signage—and the natural overlaps between the two—created an excitement on the 2019 tradeshow floor. After the announcement was made, several exhibitors made plans to expand their booths for 2020.
More co-locations for ISA International Sign Expo 2020 will be announced in the coming months. ISA International Sign Expo 2020 will be held April 2-4 with pre-conference workshops on April 1. Registration opens in the fall at www.signexpo.org.