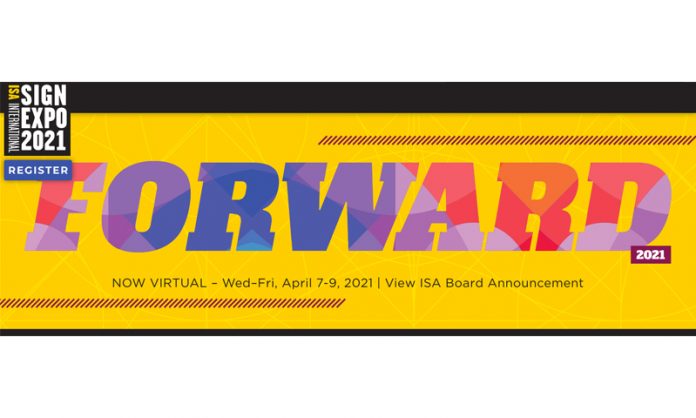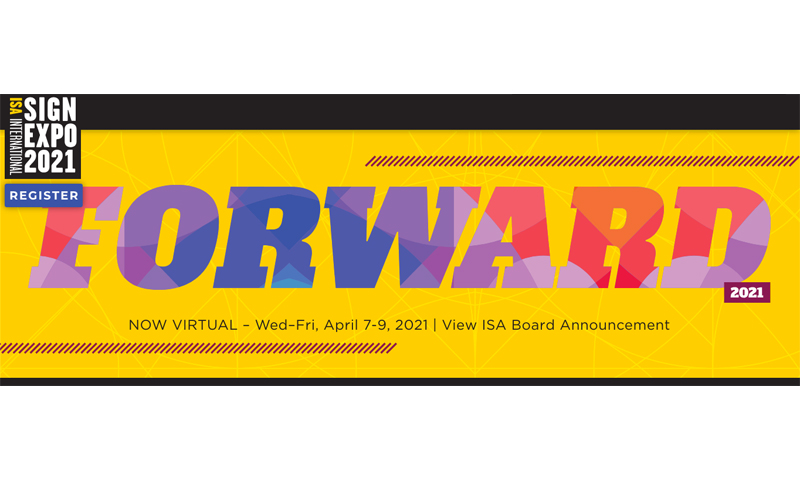 The ISA International Sign Expo- Virtual launches this Wednesday, April 7 and runs through Friday, April 9. The virtual show offers three packed days full of education sessions, networking opportunities, and a tradeshow floor with vendor booths for attendees to visit virtually.
Here are some highlights of what you can expect at this year's virtual event!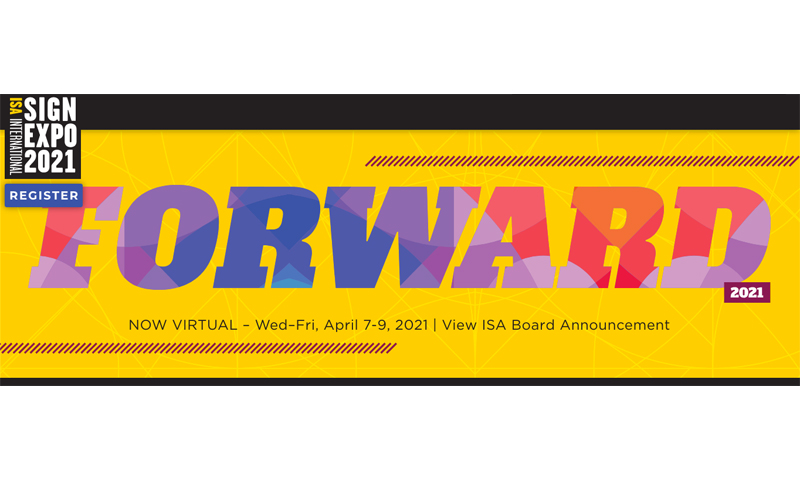 70+ Education Sessions
Some 75 informative, interactive events, ranging from traditional education sessions to peer-led learning will be available as part of ISA International Sign Expo 2021 -Virtual. The education sessions include four Titan Talks featuring industry leaders and a Game Changer session with a Fortune 500 futurist.
Sessions address the most pressing issues facing the industry, from sales strategies to workforce shortages. They also include casual conversations led by an industry expert, and peer networking groups. Some sessions are sponsored by exhibitors and dive deeply into techniques and tips on specific topics related to that segment of the industry, providing an excellent opportunity to train your team on elements directly related to the equipment you already own or are considering purchasing.
"We have put together a truly amazing lineup of speakers for these events," said Lori Anderson, ISA president and CEO. "Companies would be wise to take advantage of these many events to train their staffs and provide some inspiration for moving their companies forward throughout 2021 and into 2022. All session are included in the free registration for the event; no other action is needed. We're making it easy for you to reward and train staff who might not normally be able to take advantage of all the benefits of attending an ISA Sign Expo."
Titan Talks by Powerhouse Leaders
Four leading voices will join ISA president and CEO Lori Anderson for a series of intimate conversations at ISA International Sign Expo – Virtual. The discussions, billed as "Titan Talks," focus on the lessons these leaders have learned in the past year, their transformations personally and professionally, and their hopes for the future.
The four "Titans" are:
Guayente Sanmartin, General Manager of HP Large Format Business
Harry Patz, SVP & GM at Samsung
Matthew Shay, President & CEO at National Retail Federation
Denise Rutherford, SVP of Corporate Affairs at 3M
In these one-on-one conversations with Anderson, the leaders share their strategies for businesses and the industry today. They will inspire and offer insights into the innovations they see just around the corner and an overall enthusiasm for the potential for our industry.
"The past year has been challenging for businesses small and large, and these leaders are no different in facing the sleepless nights, uncertain futures and desire to care for their employees," Anderson said. "But these discussions will set our companies and our industries on a clear path for the future. I have no doubt that attendees will be inspired to reflect on their own challenges and review their own hopes for their businesses and the industry."
Game Changer Session that Looks to the Future
Sheryl Connelly spends her days thinking about what's coming for Ford Motor Company as a futurist focused on global trends. As the Game Changer speaker at ISA Sign Expo 2021 – Virtual, Connelly will share secrets on how to think like a futurist, providing expertise and strategy for anticipating change.
Connelly also will share the 10 mega trends that she's currently watching, developments she believes will change the world as we know it over the next 30 years. Attendees will leave with a changed mindset of how to approach long-term planning and strategy.
"The Game Changer session has always been one of the most inspiring and popular sessions at ISA International Sign Expo, and this year's topic is more timely than ever," said Lori Anderson, ISA president and CEO. "Attendees will come away with ideas that help them thrive, innovate and remain relevant in the midst of these massive shifts."
Virtual Tradeshow Floor
The tradeshow floor has long been the best place to explore new products and options for transforming your business. At ISA International Sign Expo 2021 – Virtual, that's still the case. There are even some advantages for attendees.
Yes, a virtual tradeshow floor takes a little more intentional exploration than an in-person one, where attendees can stumble upon something they didn't know existed—or they didn't know they needed—just by turning a corner. But there are some benefits to a virtual tradeshow floor at ISA International Sign Expo 2021.
Of course, the most obvious benefit is that there are no tired legs or blistered feet from walking the aisles and aisles of products. Perhaps more importantly, though, is the freedom to visit whenever you want. The virtual tradeshow floor is open from 10 a.m. April 7 through 5 p.m. April 9 (all times ET). That is 55 hours, more than enough time to visit each exhibitor, explore their innovations—and still have time to fit in all of the other sessions and events you'd like to attend. A few different strategies to make the most of it all:
Make one pass through, focusing on your existing vendors, suppliers and manufacturers. Drop by to say hello and to see what's new. Connect with exhibitors to get your specific questions asked. If after hours work best for your initial visit, many booths will include videos that explain new products and features. Videos are played on demand, allowing you to pause, skip or fast forward.
Make your second pass through focused on scoping out new products and suppliers. One of the best ways to grow business is to find an innovation that solves an existing problem or allows you to offer a new product. With so much growth and change at the supplier level in the past year, it might be time to explore new partners, or deepen relationships with existing ones.
Explore the most innovative products. Many exhibitors have entered their latest products in ISA's 2021 Innovation Awards. Check out the list of winners, posted on www.signexpo.org, in the days leading up to the event. Be sure to stop by the Innovation Awards booth where you can explore the products and vote for the most innovative. Voting occurs on the first two days, with the winner announced on the final day.
Preplan your schedule. That old adage about failing to plan is planning to fail could not be truer. Check out the list of exhibitors and start planning which ones you definitely want to visit. But don't forget to allow a little extra time to wander, too.