It's been three long years since the sign, graphics and visual communications industry was offered a chance to explore the latest products and make valuable connections. Come May, the wait is over as ISA International Sign Expo 2022 heads to Atlanta May 4-6.
ISA Sign Expo kicks off with pre-conference sessions May 3, followed by three days of education, networking and tradeshow. The location is new: Atlanta, Georgia, and along with it, new experiences, including a tour of the Mercedes-Benz Stadium, home of the Atlanta Falcons football team, and some of the most dazzling sign displays.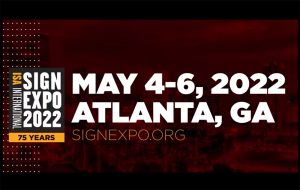 While the tradeshow floor will offer new experiences as well, one thing will remain the same: It will be the absolute best place to explore the diverse products and services available to the sign, graphics and visual communication industry.
So what should be on the agenda? Check out these new experiences, all of which are included free with a tradeshow pass.
See the latest innovations in our industry. While it may have been a while since the industry was able to come together in one location, innovations have not stopped. Manufacturers have continued to make improvements in LED lighting, channel letters, substrates, printers and other facets of the business. This will be the first chance to put your hands and eyes on some of these innovations, to see how you might expand and grow your business in 2022 and beyond.
A New Exhibitor Pavilion. Some of the exhibiting newcomers to ISA International Sign Expo 2022 are gathered in one place, allowing attendees one location to make powerful connections. With so many challenges in the supply chain, shoring up your relationships can make or break the rest of 2022. So meet some newcomers and then branch out to connect with some long-time ISA Sign Expo exhibitors who you may not have done business with before. And while you're exploring the tradeshow floor, make time to visit your existing vendors. It may have been years since you've met face to face, so re-engage.
The ISA Fabrication Experience. Watch the very best fabricators apply their skills in a new competitive event, where everyone can learn some new techniques and tricks. Contest demonstrations take place on the tradeshow floor, building excitement for the competitors while enhancing the learning atmosphere. Consider bringing some of your fabricators so they can be inspired.
The Wrap Experience.™ Speaking of skilled craftsmen, those who wrap vehicles are true masters. The partnership between ISA and The Wrap Institute continues to expand at ISA International Sign Expo and throughout the year. Justin Pate, well known as the expert in vehicle wraps, hosts an interactive booth area and the Never Stop Learning™ Wrap Contest. A pavilion introduces products and suppliers in this rapidly growing sector of the sign and graphics industry. Considering getting into this rapidly growing area? Start here.
Free learning on the tradeshow floor: Exhibitor-led education is available on the show floor in two Learning Lounges. That's in addition to the more than 30 expert-led sessions available in pre-conference workshops and as part of the education events powered by the Sign Research Foundation.
Registration is open for ISA International Sign Expo 2022. Learn more at www.signexpo.org.