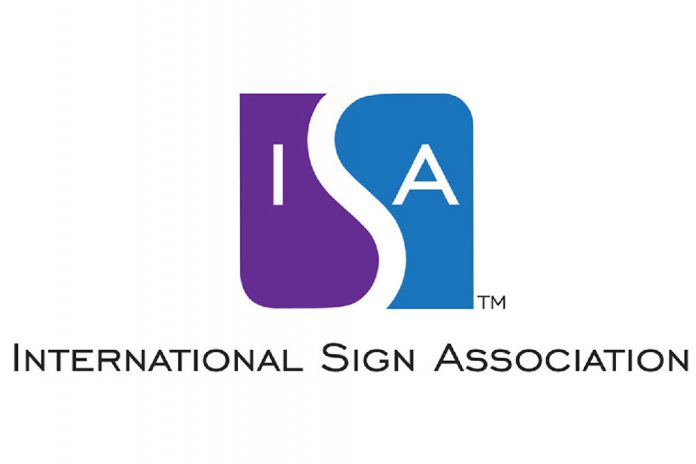 The sign, graphics and visual communications industry is poised for continued above-average growth into 2019, according to the ISA Sign Industry Quarterly Economic Report . The market is particularly strong in 2018 though most sectors slow the pace of growth in 2019.
The report assesses four segments of the industry: two supplier markets (printing and electrical/digital signage) and two end markets (electric/digital signage and architectural signage). It also forecasts commodities. The Sign Industry Economic Report, prepared in March, is sponsored by the National Association of Sign Supply Distributors (NASSD).
The report, compiled by IHS and Vandiver Associates, analyzes each segment of the market upstream and downstream to allow users to stay current with evolving business conditions.
Starting with the 2018 reports, the model has been updated, taking historical data back to 2000 to provide a longer snapshot of trends. The longer modeling allows for data that accounts for pre- and post-recession business trends. Changes also include removing data that had been updated biannually, improving the forecast for each quarterly update.
Some highlights:
· The outlook for 2018 remains strong for all segments except end markets for architectural signage. This market should expect activity to be on par with the historical average, but improving in 2019.
· Both upstream and downstream markets in electric and digital signage will outperform static signage through 2019.
· For those who supply the printing industry, the positive outlook from 2017 will carry through into 2019. The 2018 tax cut and budget deal will add more strength, so the second half of 2018 looks great as well. The next few years are taking on the character of a late-cycle surge.
· The supply side of electric/digital signage continues to outpace the other sectors in growth, but is surpassed by the end market electric/digital signage in 2019.
· Any trade war resulting from steel and aluminum tariffs would cause concern. The authors say: "The more US domestic steel prices reflect the 25% steel tariff, the less they will do to curb imports, as relative prices do not change. Although evidence and experience are brief thus far, domestic prices are chewing up a lot of the tariff's nudge toward the domestic market."
Those interested in learning more about the ISA Sign Industry Quarterly Economic Report and the outlook for 2018-2019, can participate in a free webinar hosted by ISA at 2 p.m. ET April 25. Register at www.signs.org/webinars. The webinar is free for ISA, ISA Affiliated Association or NASSD members or $100 for non-members.
The report is free for ISA, ISA Affiliated Association and NASSD members. Non-members may purchase it for $1,000 per quarterly forecast.