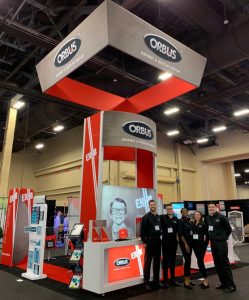 Orbus Exhibit & Display Group®, one of North America's leading wholesale suppliers and manufacturers of display, exhibit, graphic and event solutions is proud to be a gold sponsor of the 2019 Printing United Show, taking place October 23-25 at the Kay Bailey Hutchison Convention Center in Dallas, Texas. This is the first year for the Printing United show, a brand-new trade show incorporating the commercial, packaging and in-plant printing segments, built on the strong foundation of the SGIA Expo.
Printing United is a strategic response to market forces that are necessitating out of the need for a single industry exhibition that provides 'one-roof' access to all printing technologies, as well as a wealth of educational and networking opportunities. Orbus' Jaime Herand, Vice President & Director of Group Graphic Operations, is currently a part of SGIA's Women in Print Alliance Group and Orbus has been an SGIA member and exhibited at the SGIA Expo since 2007.
Orbus is one of only nine gold sponsors for 2019, including 3M, Xerox, Stahls', GSG, Kornit Digital, Top Value Fabrics, Vanguard Digital Printing and OKI Data Americas. Gold sponsorship for the Printing United show offers unique benefits to Orbus dealers including limited complimentary educational passes and free show passes.
"Orbus is excited for the new Printing United Show and the opportunity to meet with professional representatives from so many different segments of the marketplace," said Giles Douglas, President & CEO of Orbus Exhibit & Display Group.