Reece Supply Company will debut their new tradeshow booth, believed to be the first of its kind being made entirely of sign and digital components sourced from vendor partners, at ISA International Sign Expo 2018, the sign industry's premier tradeshow and conference being held March 22-24 at the Orange County Convention Center in Orlando, Florida.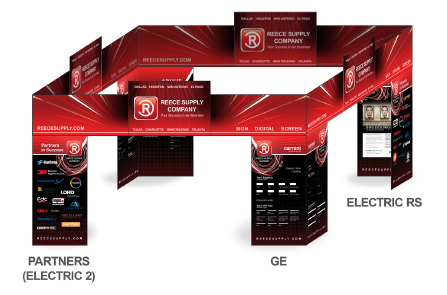 Designed to highlight the versatility and capability of the Sign and Digital industries, the display will span a 20-by-20-foot portion of booth space #417 in the Orange County Convention Center. The wall frames are constructed of SignComp extrusion materials and are designed to show Reece Supply's array of industry leading vendor partners, including several featured vendor walls. The wall faces are Plaskolite OptixMax LD acrylic with 3M film printed by Mimaki and are illuminated with a combination of GE and SloanLED LED lighting throughout, creating a booth that is a true industry group effort.
The booth graphics were designed by Alain Abeyta, a premier marketing specialist in the industry. The booth was fabricated by ArtWorks Wholesale Sign and Awning, a wholesale sign shop in Florida, who patiently put the hundreds of individual puzzle pieces together and brought them to life.  It is a real "tip of the hat" to our industry and a must see for all attending the show.
Reece Supply Company is a wholesale supplier to the sign, screen printing and digital imaging industries. For more information about the company, follow them on Twitter at https://twitter.com/ReeceSupply, Instagram at https://www.instagram.com/ReeceSupply, Facebook at www.facebook.com/ReeceSupply, and LinkedIn at www.linkedin.com/company/reece-supply-company/.