Last week marked the eighth year the Specialty Graphic Imaging Association (SGIA) and industry leaders have teamed up to support students participating in the Graphics Imaging–Sublimation and Screen Printing Technology competitions at the SkillsUSA National Leadership and Skills Conference (NLSC). SGIA and its members coordinated, judged and provided $75,000 in prizes and stipends to the secondary and post-secondary student participants.
The two competitions — out of the NLSC's 103 evaluating students in distinct, hands-on technical trades — each included eight stations to test skill sets in alignment with standard program curriculums.
SkillsUSA 2019"Equipping our youth for success needs to be our top priority and SkillsUSA is leading the way," said judge David Gross, President, Condé Systems Inc. "I am honored to be a part of this competition and look forward to motivating these participants to continue on the path of excellence."
SkillsUSA is a partnership of students, teachers and industry ensuring America has a skilled workforce. Held for 55 years, the NLSC's participants represent top career and technical education students, all of whom have won their respective state competitions. The NLSC's diverse range of trade competitions also includes childhood education, masonry, medical assisting, plumbing and esthetics.
"At the NLSC, you see the kids we'll have leading this country and, as a father, I think it's important they have mentors and know someone cares," said James Ortolani, Account Manager, PolyOne Corporation, a judge who also helped establish the SkillsUSA Screen Printing Technology competition. "Not everyone's set up to go to a four-year college; some go right into the workplace. What matters is that kids find something that's 'theirs,' that engages them, and they can make a career out of it. That's why SkillsUSA is really rewarding — it's among the important things in life making a difference."
SGIA congratulates the 2019 NLSC Graphic Imaging–Sublimation and Screen Printing Technology winners and thanks all industry volunteers and donors. For more information or to contribute to next year's event, contact Johnny Shell, Vice President, Technology & Training, SGIA.
Results — Graphics Imaging–Sublimation
Secondary Students
First: Colby Henson
Sikeston Career and Technology Center; Sikeston, Mo.
Second: Selena Quevedo
Kearns High School; Kearns, Utah
Third: McKinnon Colburn
Harris County High School; Hamilton, Ga.
Post-Secondary Students
First: Samatha Killen
Illinois Central College; East Peoria, Ill.
Second: Phuong Vu
Riverside Community College; Riverside, Calif.
Third: Sandra Castaneda
Salt Lake Community College; Salt Lake City
Results — Screen Printing Technology
Secondary Students
First: Shaunna Ford
Shawsheen High School; Billerica, Mass.
Second: Tate Schwarzwalder
Dixie High School; Saint George, Utah
Third: Dalton Brandenburg
Wausau East High School; Wausau, Wis.
Post-Secondary Students
First: James Sullivan
Illinois Central College; East Peoria, Ill.
Second: James Mcrae
Augusta Technical College; Augusta, Ga.
Third: Gabriela Peters
Abram Friedman Occupational Center; Los Angeles
Judges — Graphics Imaging–Sublimation
Henry Coeme, HIX Corporation
David Gross, Condé Systems Inc.
Aaron Montgomery, Pic the Gift
Ray Weiss, SGIA
Michael Wickman, HIX Corporation
Judges — Screen Printing Technology
Betty Bassett, Classic Designs Screen Printing
John Kupka, Saati Americas Corp.
Matthew Marcotte, T&J Printing Supply
James Ortolani, PolyOne Corporation
Tiffany Rader Spitzer, Roeder Industries
Lon Winters, Print This/GraphicElephants.com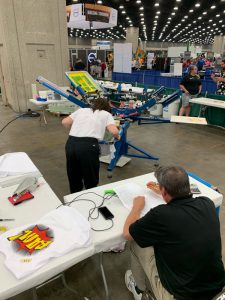 Donors
Adobe Beaver Paper & Graphic Media Inc.
Condé Systems Inc.
Easiway Systems Inc.
Epson America Inc.
Fruit of the Loom Inc.
GraphicElephants.com
Great Dane Graphics
HIX Corporation
Newman Roller Frames mfg. by Stretch Devices
PolyOne Corporation
Saati Americas Corp.
The M&R Companies
Wasatch Computer Technologies