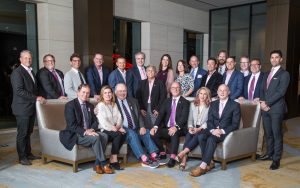 Specialty Graphic Imaging Association (SGIA) announces the appointment of its 2019 – 2020 board members. Scott Crosby, tc . holland & crosby, will serve as Chairman of this newest Board of Directors; and Christopher Bernat, Vapor Apparel/Source Substrates LLC, will serve as First Vice Chair. The 2019 – 2020 board was appointed during a special meeting that took place in conjunction with PRINTING United, in Dallas, October 23 – 25.
The 2019 – 2020 SGIA Board of Directors
Tom Davenport, Motion Textile, will serve as Treasurer, and Dean DeMarco, IDL Worldwide, will perform the duties of Secretary. SGIA's 2018 – 2019 Chairman, Thomas Cooper of WestRock, serves as Immediate Past Chairman. Meanwhile, 2017 – 2018 Chairman Edward Cook, Jr. of ECI Screen Print Inc., has been named Chairman of the Chairman's Advisory Council this year. Scott Schinlever, Gerber Technology, takes on the role of Associate Vice Chairman.
Brian Adam, Olympus Group; Kristen Danson, Mito Graphics Inc.; Edward Pidcock, Chillybears; Heather Poulin, Ricoh USA; and Elaine Scrima, GSP Companies, all join the board this year.
Brett Bowden, Printed Threads; Nick Buettner, American Cut and Sew; Kevin Gazdag, KG Graphics Decor; Brooke Hamilton, NPI; Lane Hickey-Wiggins, Douglass Screen Printers Inc. dba DPRINT; Brian Hite, Image Options; Brent Moncrief, FUJIFILM; Timothy Saur, Durst Image Technology US LLC (Durst US); and Mike Wagner, Butler Technologies Inc., will continue as Directors.
"This newly appointed SGIA board represents everything we stand for, and strive to be, as an association," said Ford Bowers, President and CEO, SGIA. "Each one of these esteemed professionals are leaders and champions within their respective market segments and represent the voice of our community at large. We appreciate their dedication and service to the industry."