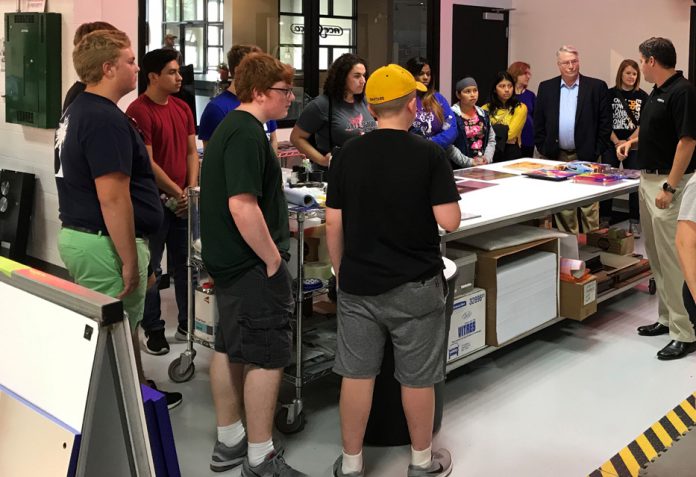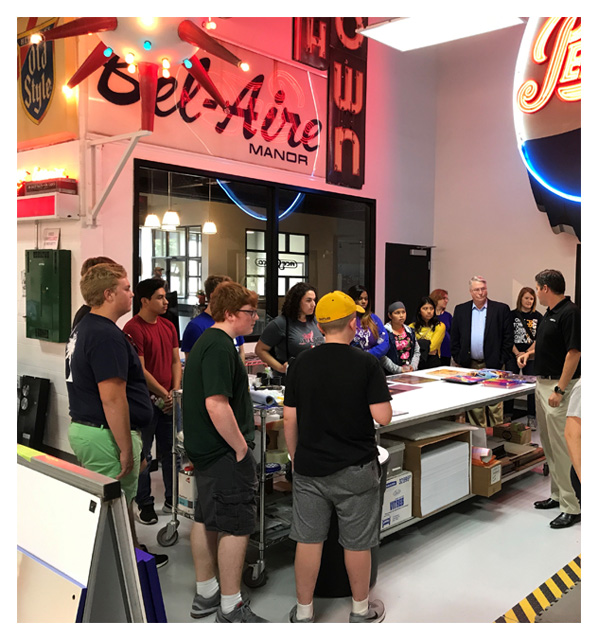 Students say they are more likely to consider a career in the sign, graphics, and visual communications industry after participating in ISA Sign Manufacturing Day 2018. Companies say the event was exciting for current employees and provided an important relationship with local educators.
Sign Manufacturing Day, sponsored by the International Sign Association in conjunction with the National Association of Manufacturers, is now in its sixth year.
In all, more than 3,400 students toured a sign, graphics or visual communications company as part of Sign Manufacturing Day 2018, held October 5th.
"We always have anticipated that Sign Manufacturing Day would lead to ongoing relationships that extend throughout the year," said Lori Anderson, ISA president and CEO. "It is clear that this is the result. It is so exciting to see how students' eyes open when we discuss our industry—and how many want to translate their education into a sign, graphics and visual communications career."
The event was revealing for students. In a survey conducted after the tour, 86 percent said they would consider a career in manufacturing or sign manufacturing. Before the event, only 36 percent said they had considered a career in manufacturing.
As one student said, "Before the tours, I thought that there weren't good options other than college. However, I quickly learned that you can make decent money, get good benefits, and be paid to go to school for further certification. You can do all of this without tackling any debt!"
The survey showed that 98 percent of participating students were better able to see how their career and technical education could be used in their vocations.
Another student said, "It was a great experience seeing areas of work that pertain to careers that interest me and how many different jobs there are to go into. I very much appreciate the kind hands showing all of us career opportunities."
Participating companies put their own stamp on the event, they are encouraged to include employees to showcase their work and to discuss how their education prepared them for their jobs. In some cases, students were able to hear directly from recent graduates of their schools—some of whom toured during a previous Sign Manufacturing Day.
That helped students see the career path ahead.
One student said, "I liked how you had somebody who specializes in each section take the time out of their day to basically describe what they do on their day to day and what kind of schooling they needed, if any at all, to have the job that they have today. I hope that in the future you keep your doors open to kids like us, who like to see what the different fields are and see if they're interested in any of them."
The interest was mutual.
Participating companies had students apply on the spot for internships. Others set up job shadowing. One company even recruited the father of a Sign Manufacturing Day participant. The event also provided a valuable and ongoing relationship with area high schools and career institutes.
One participating company said, "Last year, we had one fabrication instructor attend with a few of his students. This year, he asked to include one of the other fabrication instructors, so we doubled the size of our group. The instructors are interested in using some of our drawings (after we take out pertinent customer information), so the students can practice welding off of actual structural drawings, rather than from a book of blueprints."
Another said interest was high in additional tours and may lead to a cooperative program with a local community college and high school. Another said the result of the one day was a "better relationship with the professors at the community college, so their future classes could also come tour, and may lead to future hiring in addition to this year's Sign Manufacturing Day."
To learn more about Sign Manufacturing Day, visit www.signs.org/mfgday or www.signs.org/careers.