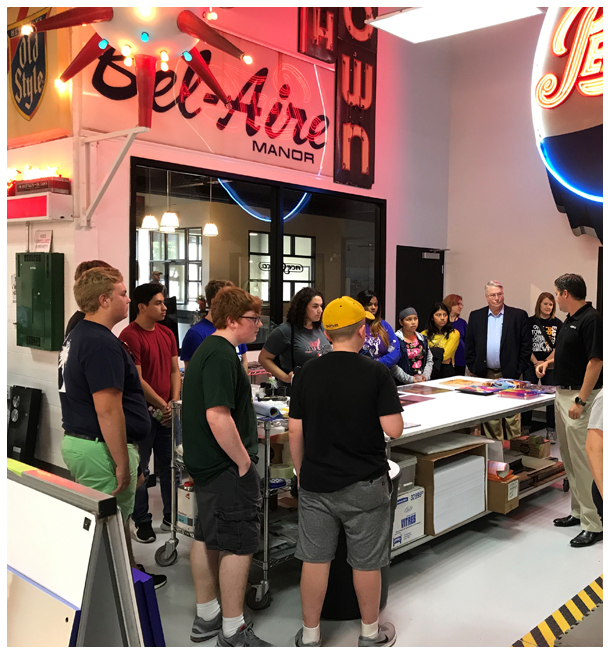 On Sign Manufacturing Day (annually held the first Friday in October), companies in the sign, graphics, and visual communications industry host facility tours to encourage high school and vocational school students to explore exciting and diverse career opportunities within the industry.
These visiting students end up becoming even more interested and engaged in careers in the manufacturing or sign industry. In 2019, 86 percent of touring students said that they would consider a career in manufacturing or sign manufacturing after the tour, whereas before the event, only 23 percent said they had considered a career in the industry. Participating sign shops have been able to recruit future works, build relationships with educators and schools, and develop internships, participate in career days, and more!
Reflecting the "new normal" caused by the COVID-19 pandemic, this year's Sign Manufacturing Day, being held on October 2, will be a virtual event. The International Sign Association knows that this year will look different, however they feel that engaging with your next generation of workers has never been more important!
Going virtual is possible and not as daunting as it may sound. The International Sign Association has developed a toolkit and resources to help you plan and host a successful event. And this recent Webinar recording offers resources and tools you need to plan and host a successful virtual event.
To register to participate in this year's Sign Manufacturing Day, click here. To learn more about participating in Sign Manufacturing Day, email [email protected] or visit www.signs.org/mfgday.
The International Sign Association's Sign Manufacturing Day is held in partnership with the National Association of Manufacturers' Manufacturing Day.