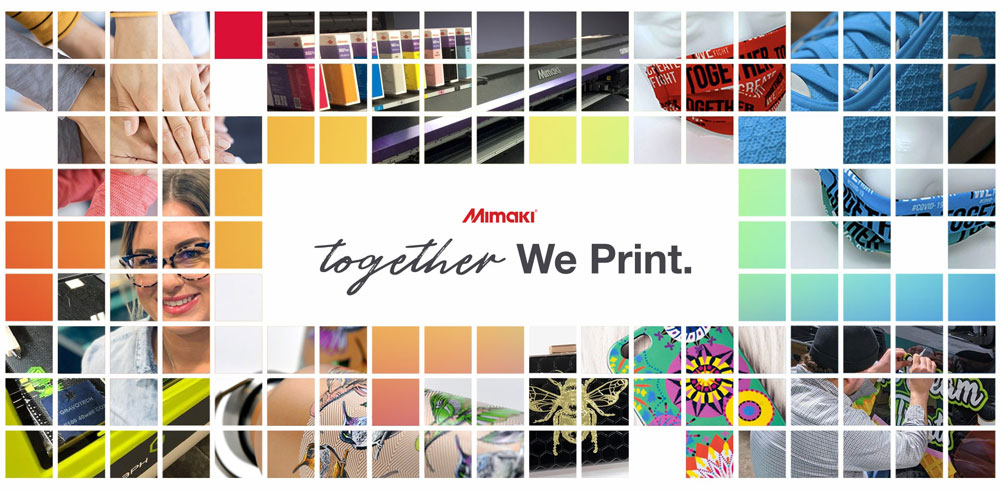 Mimaki USA, a leading manufacturer of wide-format inkjet printers and cutters, today announced the launch of Together We Print community to promote print service providers.
Small businesses throughout the world are rapidly adjusting practices to endure the global pandemic. Printing & Cutting services play a vital role in this effort. As continued providers of informational signage and graphic communications, print and cut services are now more essential than ever. Many service providers have also begun producing Personal Protective Equipment and other indispensable items such as masks, shields, and gowns. These services are supporting local communities everywhere, giving families and businesses a way forward.
Mimaki wants to help.
To help promote the services of print service providers everywhere, we're announcing the Together We Print community. Designed to spotlight firms striving to succeed in the current climate, Together We Print will build community support enabling print service providers to advertise their capabilities, connect with other local businesses that need their services, and support families everywhere. Regardless of the print technology used, Mimaki USA will help promote these services through a website directory, social media posts, and other advertising platforms. Together We Print aspires to support our print community, their families, and the families of every business.
To join the Together We Print community, simply go to https://www.mimakiusa.com/together-we-print and submit the form regarding services that support local communities with print and cut services. We'll do our part to highlight the print community efforts, thereby connecting businesses that need this support.
We are all in this together, and as a print community we will create innovative ways to stay safe, healthy, and connected. Together We Print. Together we make a difference.