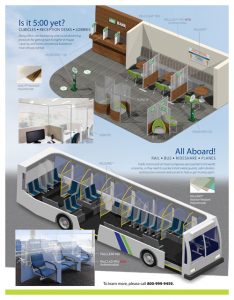 Palram Americas, a leading global manufacturer of polycarbonate and PVC, has some ideas about what the "new normal" will look like as businesses reshape their work environments in order to continue smooth operations throughout the pandemic and beyond.
From protective barriers, dividers, signage, and cladding to new sanitation standards, Palram's Concepts Brochure contains examples of Post-COVID layout solutions for retail stores, restaurants and food processors, schools, manufacturing facilities, entertainment venues, and more.
To help readers find the ideal material for their specific application, the brochure includes a Selection Guide comparing Palram's sheet, multiwall, and panel system products side-by-side according to attributes such as opacity, impact resistance, flammability, and printability.
For more information, contact Palram Americas at (800) 999-9459 or visit www.palram.com/us.