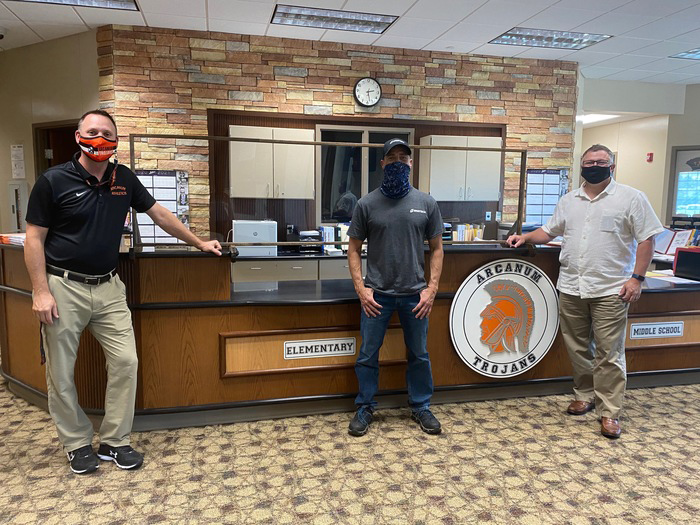 Spartech, a leading manufacturer of engineered thermoplastics and custom packaging solutions, has donated $2,500 worth of PETG Sheet to be used as a protective barrier system for the Arcanum-Butler Local Schools in Greenville, Ohio.
"We want to thank Spartech for the donation that will help keep everyone in our school community safe and protected," said John Stephens, superintendent for the Arcanum-Butler Local Schools. "A safe school environment remains our number one priority, and these protective barriers will provide added protection for students, teachers, and staff as we head into the new school year."
"Many of our employees have children heading back to school and we know how valuable personal protective equipment like barriers are to the safety of students, teachers and staff," said Robert Benton, plant manager for Spartech. "We wanted to do our part to ensure Arcanum opens safely. We are proud to help and hope this donation gives everyone some added peace of mind."
Spartech Quality Control Donnie Baker, who lives in Arcanum and graduated from the school, reached out to the superintendent about the need for protective barriers. The Spartech team then quickly stepped in with an offer to donate the PETG sheet.
Easy to clean and disinfect, Spartech's UltraTuf™ PETG Sheet is versatile, clear and FDA-approved. The plexiglass will be used specifically at Arcanum as dividers for teachers working individually with students and for classrooms that use tables instead of desks. Situated in the southern Darke County village of Arcanum, Arcanum-Butler Local Schools is primarily a rural district with an enrollment of 1,116. The school plans to open for in-person classes on September 1.
Spartech's Greenville plant normally produces various thermoplastic flame-retardant polymers, Polyethylene as well as Clear PETG (plexiglass). The plant stepped up production, over doubling output of the Clear PETG sheets that are made into visors, safety shields and barriers in early March 2020. Running 24/7 since March, the plant has produced over 6 million pounds of clear sheet.
Spartech has long manufactured the clear plastic films used to make the personal protective equipment that helps protect first responders and healthcare workers in their daily work assisting their patients. Now the decades of expertise in forming plastic materials is essential in the fight against the COVID-19 pandemic.
Because Spartech has multiple facilities to process these clear materials, including Cape Girardeau, Missouri, Paulding, Ohio, and Sheboygan Falls, Wisconsin, the company can ensure a constant supply of PPE even during high demand. Spartech's other facilities that can process the materials are Muncie, Indiana, and Newark, New Jersey. Having more than one facility that can produce most of its materials uniquely positions Spartech to ensure business continuity even in times of crisis.
For more information, visit http://spartech.com.