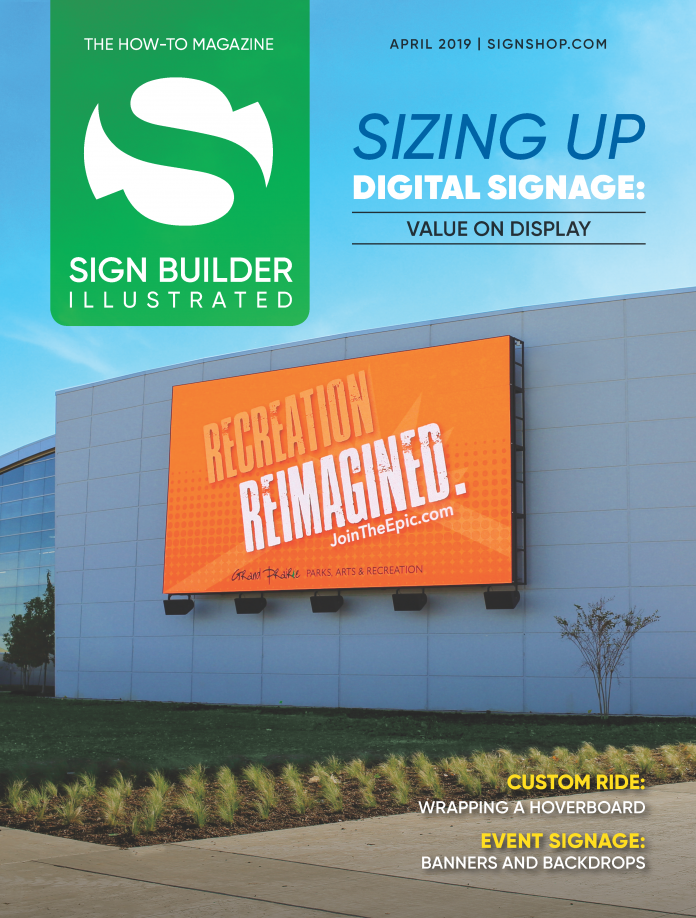 In This Issue
Features
UPSIZIN' A SIGN
McDonald's® is lovin' their new LED display.
SIZE MATTERS
A trio of factors that influence digital signage size.
DESIGNING THREE ANSWERS
Three questions to ask when considering channel letters.
A SPECIAL BRAND
New graphics for Cookie Cart bakery hit the sweet spot.
A CUSTOM RIDE
"I need to wrap this…hoverboard?"
FROM OUT OF THE PAST
Custom sign company recreates historic military park signage.
MESSAGES ON DISPLAY
The roles of vinyl and fabrics in tradeshow and event graphics.
Departments
EDITOR'S COLUMN
When times get overwhelming, Editor Jeff Wooten relays solutions to keep sign makers motivated.
IN THE INDUSTRY
Massive LED display provides an epic experience, an LED light show at the Vegas Eiffel Tower, and installing the world's largest digital billboard.
Sign Show
The newest products and services from sign manufacturers.
SBI Marketplace
Advertisements and announcements from the sign trade.
Shop Talk
Are robotics coming for your job? David Hickey plugs in some answers.
How – To Columns
PAINTING ACM PANELS
Prepping and priming aluminum composite material.
CHANGING CUSTOM HELD BELIEFS
How sacred cows disrupt throughput and opportunity.
JOB COSTING, PART TWO
The formula for figuring out a fair price.