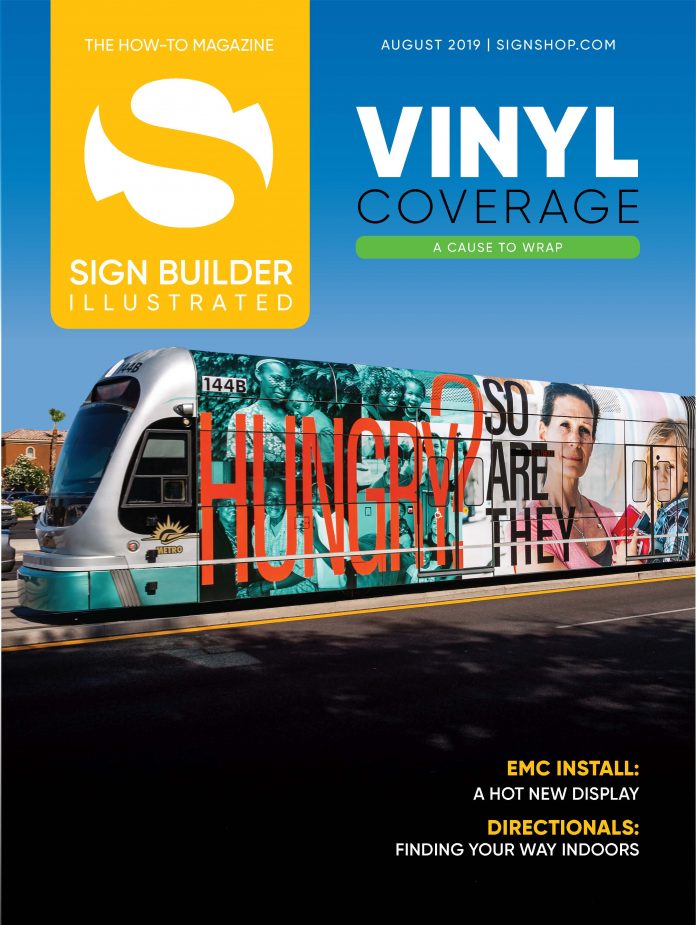 In This Issue
Features
2019 SBI BUYER'S GUIDE
Contact information for sign-related manufacturers and distributors.
THE INSIDE SCOOPExamining the styles of interior directional signage.

WRAPS: A GOOD CAUSE & EFFECT
Bus and train wraps help the United Food Bank of Arizona.
A HOT NEW DISPLAY
Volunteer fire department raises its awareness
with an EMC install.
Departments
EDITOR'S COLUMN
Multi-tasking is a popular business practice nowadays, but Editor Jeff Wooten concentrates on whether it is beneficial over the long run.
IN THE INDUSTRY
Orlando resort makes LED waves, a wall mural goes up, a digital time tower runs like clockwork, and lighting adds some Windy City flair.
SIGN SHOW
The newest products and services from sign manufacturers.
SBI Marketplace
Advertisements and announcements from the sign trade.
Shop Talk
David Hickey provides answers to some of the most commonly asked sign code questions he receives.
How – To Columns
THE BAR IS SET
New sign package for legal association enhances their visibility.
MAXIMIZING PRODUCTION THROUGHPUT
Three "no-cost" ways to get the
most out of your shop talent.
WHO ARE YOU?
Defining your unique
selling proposition.