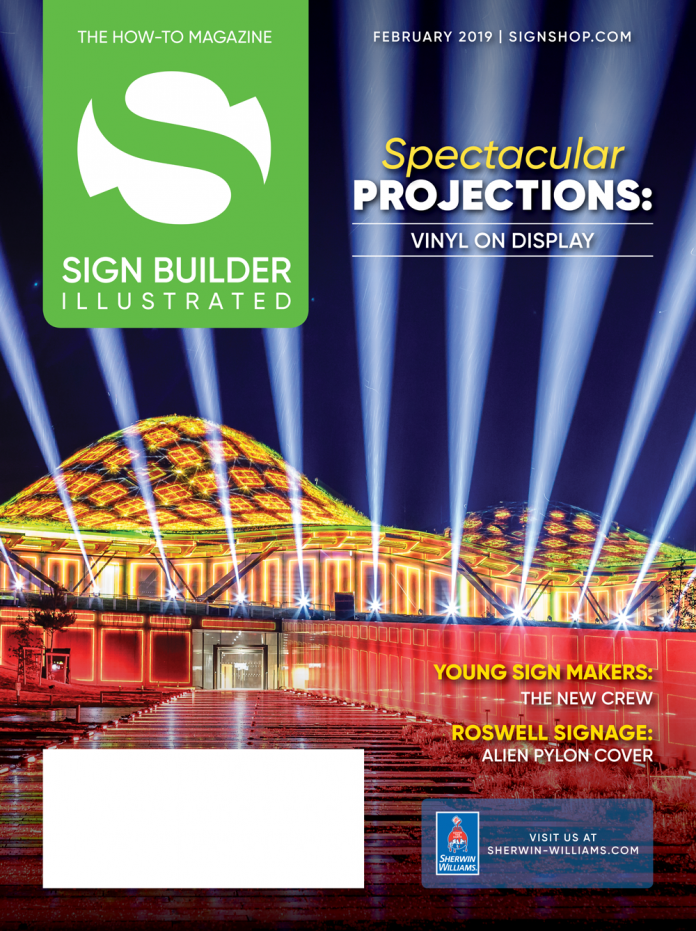 In This Issue
Features
CLOSE ENCOUNTERS OF THE SIGN KIND
Watching the skies for an alien-inspired pylon sign.
SIGN MAKERS: THE NEW CREW
Start talking about our generation.
THE ENVIRONMENT FOR GRAPHICS
Environmental graphic design is transforming markets.
How – To Columns
SOLAR POWERED
A green-thinking company renews initiatives.
STAR LIGHT, STAR BRIGHT
Shining a light fixture on childhood literacy.
A PRESCRIPTION FOR SIGNAGE
ASI, Iowa provides new signage for an urgent care facility.
Departments
EDITOR'S COLUMN
Editor Jeff Wooten looks at various ways to attract young talent to the sign industry.
IN THE INDUSTRY
Partnering with artists to repurpose billboards, a spectacular digital projection, graphics transform an interior office, and the latest in 3D printing.
Sign Show
The newest products and services from sign manufacturers.
SBI Marketplace
Advertisements and announcements from the sign trade.
Shop Talk
In Living Coral! Sal Sheikh explains how the 2019 Pantone® Color of the Year affects you.