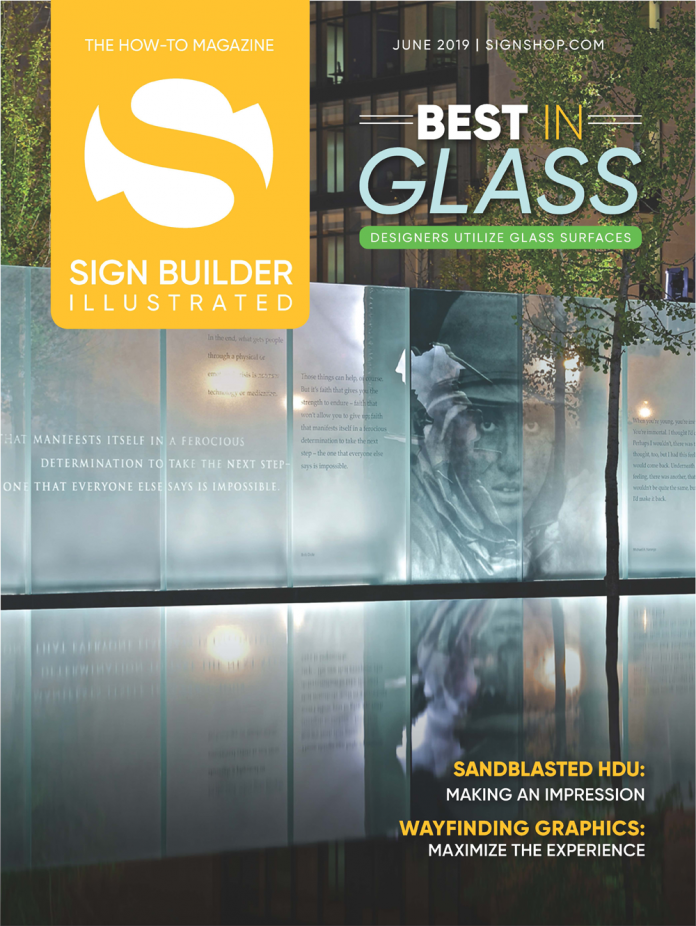 In This Issue
Features
BEST IN GLASS
Glass finish graphics are an attractive option to consider.
INTERPRETIVE ACTION
The story behind the Americans Veterans Disabled for Life Memorial design.
THAT TOUCH OF LUXURY
Using fabric graphics to transform high-end interior environments.
CHIEFS Of THE draft
The collaborative gameplan to help make fans part of
a football team's foam letters.
Departments
EDITOR'S COLUMN
Editor Jeff Wooten reflects on why glass surfaces are a high-end market for sign shops to profit from.
IN THE INDUSTRY
Using vinyl to recreate disappearing NYC "mom-and-pop" shops, ISA International Sign Expo 2019 wins big, and digital signage and art combine for a hotel upgrade.
Sign Show
The newest products and services from sign manufacturers.
SBI Marketplace
Advertisements and announcements from the sign trade.
Shop Talk
David Hickey details how concerns from a sign maker led to this year's Sign Code Champion.
How – To Columns
BLAST OFF!
A sandblasted HDU sign
makes an impression.
GRAPHICS THAT GUIDE
Maximize customer experience with wayfinding graphics.