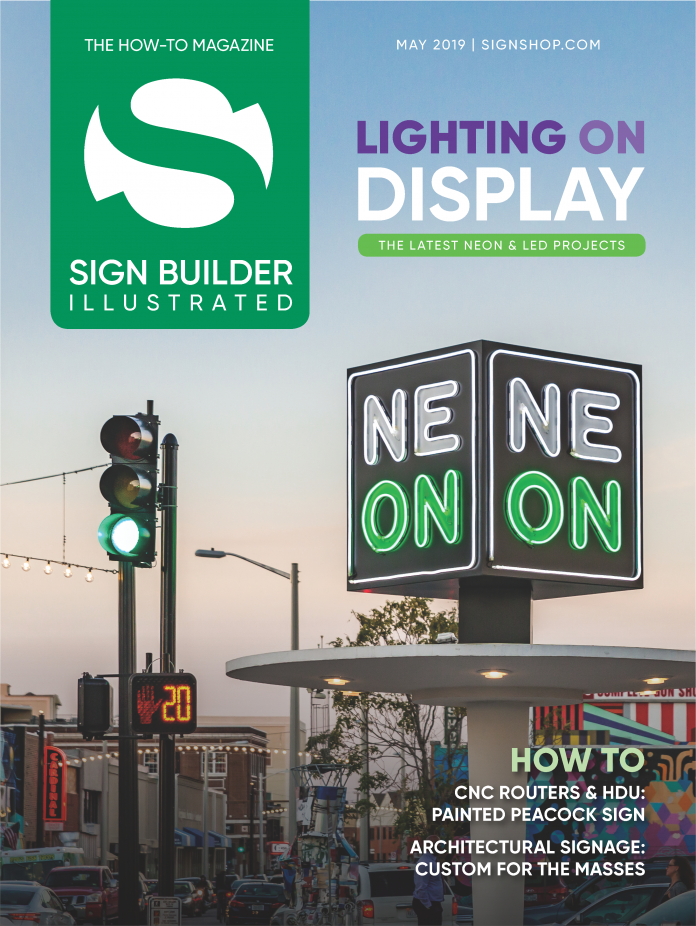 In This Issue
Features
ROCK 'N' ROLL RESTORATION
The original guitar sign for Hard Rock Café plays on.
DESIGNING OUTSIDE OF THE BOX
"The perfect sign is one that's created just for your brand."
NEON RESURGENCE
Norfolk's NEON District celebrates public art
and revitalization.
WRAPPED UP EDUCATION
The school is open for wrapping vehicles.
Departments
EDITOR'S COLUMN
They say what happens in Vegas stays in Vegas, yet Editor Jeff Wooten finds this hard to do this month.
IN THE INDUSTRY
LED fixtures bring a neon look to a winning application, communicating with a wall wrap, and an auto dealer uses the latest digital technology.
Sign Show
The newest products and services from sign manufacturers.
SBI Marketplace
Advertisements and announcements from the sign trade.
Shop Talk
Jeff Wooten details how a full-service company has proved successful
at hiring.
How – To Columns
PEACOCK BLUE
A winery pours a lot of color
into its new identity sign.
THE ART OF SURFACE GILDING
Applying gold leaf to various substrates and surfaces.