Agio Imaging, a large format custom print solution provider based in Kalamazoo, Michigan, recently used Sintra graphic display board by 3A Composites USA—supplied by the Grand Rapids, Michigan branch of distributor Laird Plastics, Inc.—to create a wide range of interior wall signage including wayfinding signage, corporate departmental designation wall décor, and school educational signage.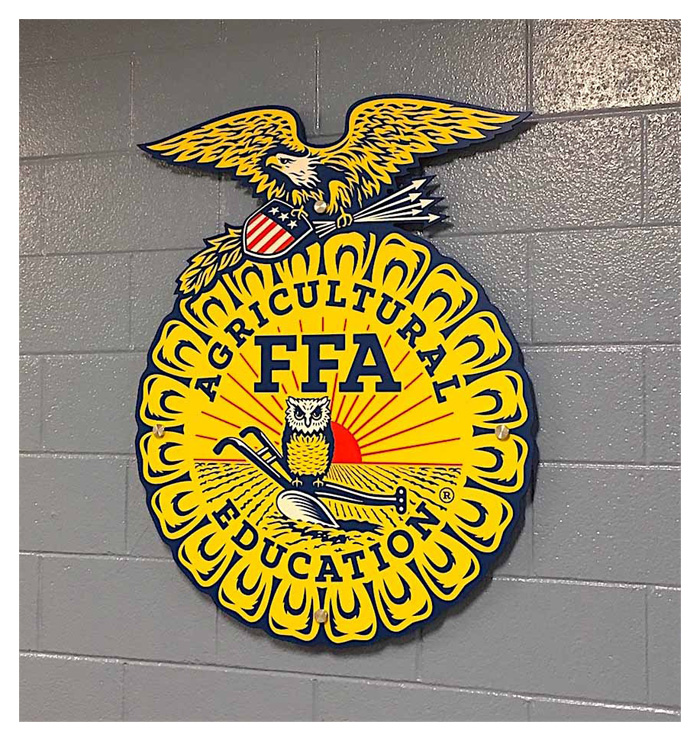 Agricultural Education. Agio Imaging turned to Sintra to reproduce the National FFA Organization's logo—a large shield topped with an intricately routed eagle and arrow elements—designating FFA Agricultural Education at Maple Valley High School in Vermontville, Michigan.
The bright logo—featuring yellow, red, white and blue colors—was direct-printed on 6mm Bright White Sintra with a super-wide format UV printer. Exposed edges of the CNC routed logo were custom painted dark blue. The finished logo was direct mounted to the wall with stainless steel fasteners.
Customized Wayfinding. While wayfinding signs serve a practical purpose, there's no reason their design has to be basic. Agio Imaging created a custom look for the culinary services department at Michigan State University in Lansing, Michigan, by incorporating school colors on two layers of Sintra as well as routed shapes and custom painted edges.
Agio Imaging chose 12mm Sintra in the Dark Green color for the sign's base and utilized a super-wide format UV printer to direct print directional information. The base was topped with a CNC-routed semi-arc shape, and its exposed edges were custom painted dark green.
"We painted the base layer's edges green to create a custom look," said Davina Logan, director of Sales, Marketing, and Administration at Agio Imaging, "and create a wayfinding sign with a lot more dimension."
The wayfinding sign's top layer was direct printed with a Michigan State Spartans' mascot logo and departmental designation with green ink on 6mm Bright White Sintra and CNC routed with an exposed edge. Stainless steel standoffs were utilized to attach the two layers to each other as well as to secure the sign to the wall.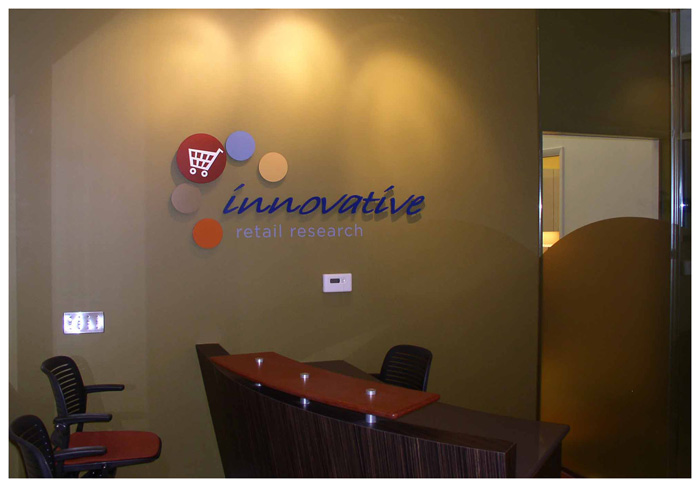 Corporate Departmental Designation. While designating a corporate department easily can be achieved with traditional printed signage, Agio Imaging routinely steps up these designs with custom looks. A recent wall display designed to designate a corporation's retail research department featured multiple routed elements from Sintra graphic display board—including cutout letters and a series of variably sized and direct-printed circles.
Agio Imaging selected 12mm Sintra in the Dark Blue color to CNC route individual letters spelling "innovative" in a lower-cased contemporary font; the letters' exposed edges were custom painted dark blue. The cutout letters were dimensionally mounted to the wall with the words "retail research" printed and cut from self-adhesive vinyl installed beneath.
Five circle elements completed the departmental design. One large red CNC-routed circle element featuring a white shopping cart image was direct printed on 12mm Bright White Sintra. Four smaller CNC-routed circles were direct printed on Bright White Sintra—two in the 12mm thickness and two in the 6mm thickness. The circle elements were finished with custom painted edges and dimensionally installed on the wall.
"The varying Sintra thicknesses makes the elements seem to push and pull," said Logan. "It's a unique layered look."
Agio Imaging utilized a super-wide format UV printer to direct print the circle elements.