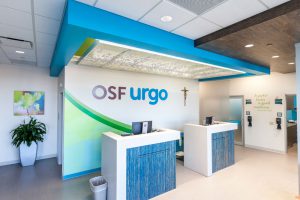 OSF Urgo is an urgent care facility with locations throughout Illinois. The facilities are part of OSF HealthCare, a faith-based, thirteen-hospital healthcare system.
The word "Urgo" is derived from "Urgent Care on the Go" and reflects OSF's mission to create an environment that is personalized, convenient, and quick.
OSF Urgo needed a vibrant, modern sign package that reflected its unique approach to healthcare. The facility reached out to ASI, Illinois based on its existing relationship and project history with the company and asked them to develop a signage standard.
The sign package called for eighteen to twenty interior and exterior sign types (from ADA signs to identity signs to wall graphics) to be placed in fifteen locations.
The exterior signage included face-lit channel letters fabricated from 4.5-inch deep aluminum channel letter coil stock with white translucent acrylic faces (7328) and one-inch trim cap. The letter faces have a painted dual film applied to them so that they appear as the branded colored graphics during the day and illuminate white at night. The channel letters were installed on a pan/raceway backer.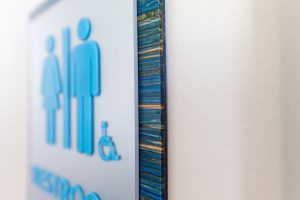 "Our sign design is inspired by the interior design concepts developed by OSF and their architect, Architectural Design Group in Peoria, Illinois," said Tom Wilcoxen, sales consultant at ASI, Illinois. "Typically, healthcare interior signage colors are more neutral in color to help them blend into the interior design decor. This signage has very vibrant colors that help to make them pop."
The signage was fabricated in-house at ASI's Grinnell, Iowa production facility. The digital print graphics were made from ASI's LTV series vinyl graphics. ASI's LPP Series flat-cut acrylic dimensional letters were also used. The graphics were printed on Mimaki JFX 200 and JVC 300 printers.
Other interior signs were made from InTac™ Eco signs fabricated from TorZo Striata Fusion 360 Sapphire backers. "You do need to apply metal backers to the Torzo material because it will begin to curl over time," said Wilcoxen. "The Torzo is purchased in sheets, and Maxfield Millwork typically cuts all of the backers for all the planned, upcoming orders at once."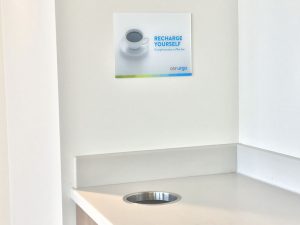 All of the fabrication was completed in less than four weeks. Separate exterior and interior installation crews installed the signs. "Because there is a planned schedule for all of the new locations that are opening, there is consistency from project to project," said Wilcoxen. "This overall consistency has really made each project operate like a well-oiled machine."
OSF Urgo was pleased with the final results. "We wanted the environment to reflect the unique and modern urgent care experience we were creating," said Jennifer Towery, director of Creative Services for OSF HealthCare. "With ASI's help, the 'wow' starts even before the patient walks in the door."
By Ashley Bray
Photos: ASI