Daktronics and Viparis Parc Expo Porte de Versailles have partnered to create an iconic installation in Paris in 2020, a project that received the ICONA D'OR Award for digital achievement. The mobile awning is an architectural lighting project that was completed in conjunction with design architects Jean Nouvel, mechanical installer Pekason, general contractor Leon Grosse and LED designer Creative Display.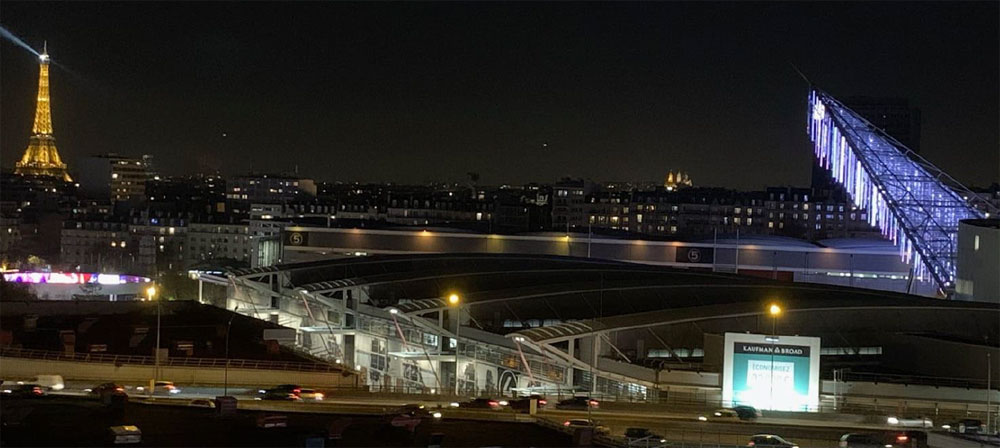 Viparis, a subsidiary of the Paris Ile-de-France Chamber of Commers and Industry and Unibail-Rodamco-Westfield, is the European leader in conferences and trade events. The display marks the entrance and appeals to the seven exhibition pavilions, 216,000 square meters of exhibition space and 72,000 square meters of green space once the 10-year project is complete in 2024.
"With the awning, Paris Expo Porte de Versailles is taking a new step in its metamorphosis," said Romain Thibault with Unibail-Rodamco and Viparis. "Paris Expo Porte de Versailles now offers an enriched experience to participants of trade fairs, conferences and other events, but also to Parisians, residents or occasional visitors. The park is open to the city."
The display itself is a combination of two different freeform LED elements, one element features 25-millimeter pixel spacing and the other features 50-millimeter pixel spacing. They are suspended 26 meters above the ground from the triangle-shaped structure to create 709 square meters of unique digital scrolling content.
The awning pivots on its base allowing the point of the awning to rise into the sky and sparkles in the Paris skyline to signal Parisians of certain exhibitions at the pavilions. The configuration encourages visitors to walk under the dangling elements as they share information such as dates, themes, times and exhibitions for each show. At times, the elements all come together to form a large three-dimensional screen showing anamorphic animations and luminous graphic compositions.
"The mobile awning of Porte Versailles reinvents traditional urban posters and creates a dynamic and joyful link between Pavilion 6 and the park, between the park and the city," said Jean Nouvel, architect on the project.
To control the display, Daktronics developed a specific, custom software for content management to allow Viparis to meet its goals for use of its new architectural LED feature.