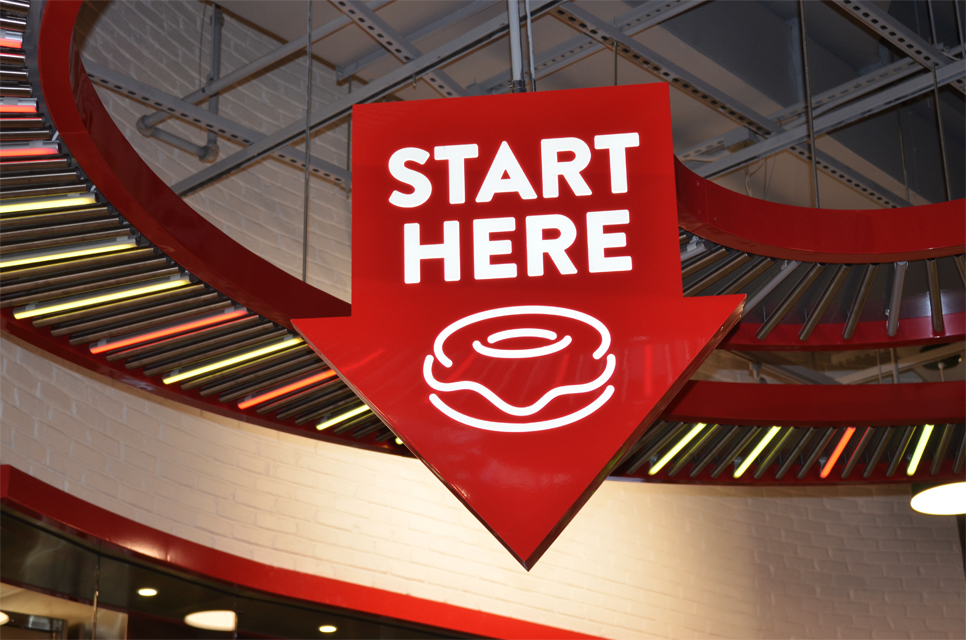 Krispy Kreme Doughnuts is a popular doughnut chain spread across the world that serves a delicious blend of glazed doughnuts and aroma-enhancing coffee. Customer experience plays a huge role in the Krispy Kreme philosophy. One of the charms of any of its shops is that customers can stare through a Plexiglas wall as they watch the doughnuts being made and added to a conveyor belt for its journey to the front counter.
Fans of the franchise can instantly recognize Krispy Kreme through a variety of means—whether it's the shop's red, green, and white branded color scheme, its iconographic paper hats for employees (and customers), and probably most notably, it's red neon "Hot Light" that turns on whenever a new batch of piping-hot, glazed doughnuts is ready.
The origin of the Krispy Kreme hot doughnut takes place back in 1937 when founder Vernon Rudolph began selling hot doughnuts through his factory window to individual customers who came by his Winston-Salem, North Carolina location during production time between midnight and 4 A.M.
Today the establishment has expanded to over 1,000 locations all over the world. Surprisingly one of the places that Krispy Kreme did not have as much of a notable presence was New York City (once home to six locations, since 2009, Krispy Kreme's only New York City shop has been located on the Amtrak level in 2 Penn Plaza).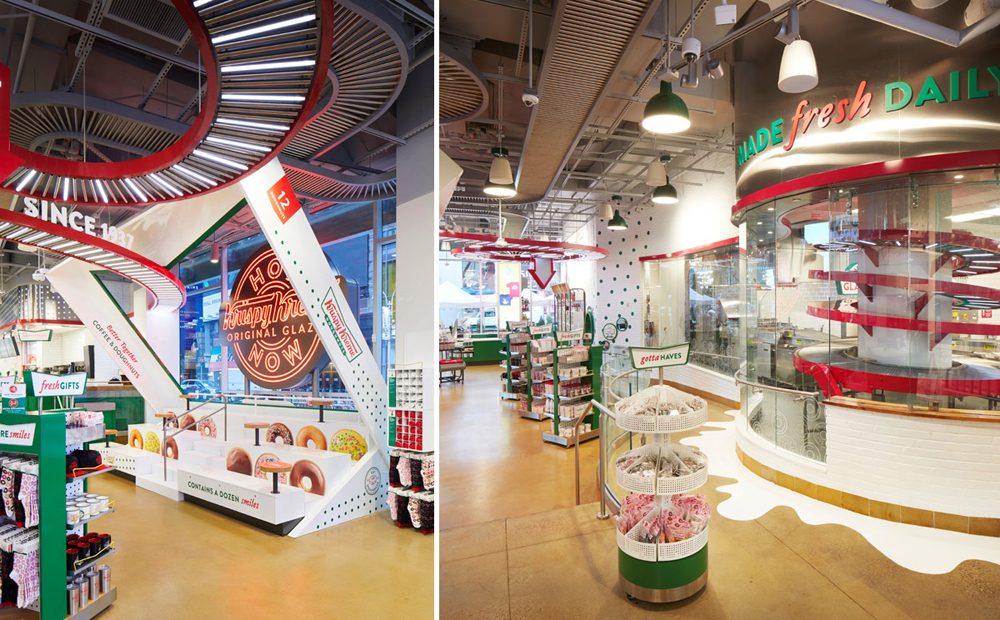 However that low-profile presence shifted big-time this past September when, after five years of strategic planning, a brand-new, state-of-the-art flagship location opened in the heart of Times Square (1601 Broadway). The new shop, which will serve more guests annually than any other Krispy Kreme location in the world, recreates the experience of Rudolph's original Krispy Kreme—only with more modern trappings.
The Times Square Krispy Kreme shop features icing-themed floor graphics, interior and exterior digital signage, and most notably, the world's largest Hot Light sign, spinning twenty-four hours a day, seven days a week on its rooftop.
The "Hot Now" Hot Light Sign
This giant sign reads "Hot Now" with accompanying Krispy Kreme text and circular strokes. It is nestled nearly 80 feet from ground level, measures 15-feet-2-inches tall-by-17-feet-11-inches wide, and weighs 8,000 pounds. (Note: A standard-size Hot Light sign is affixed to the shop below the digital board.) It is also illuminated completely with LEDs—featuring a total of 14,000 LED modules (7,000 per side)!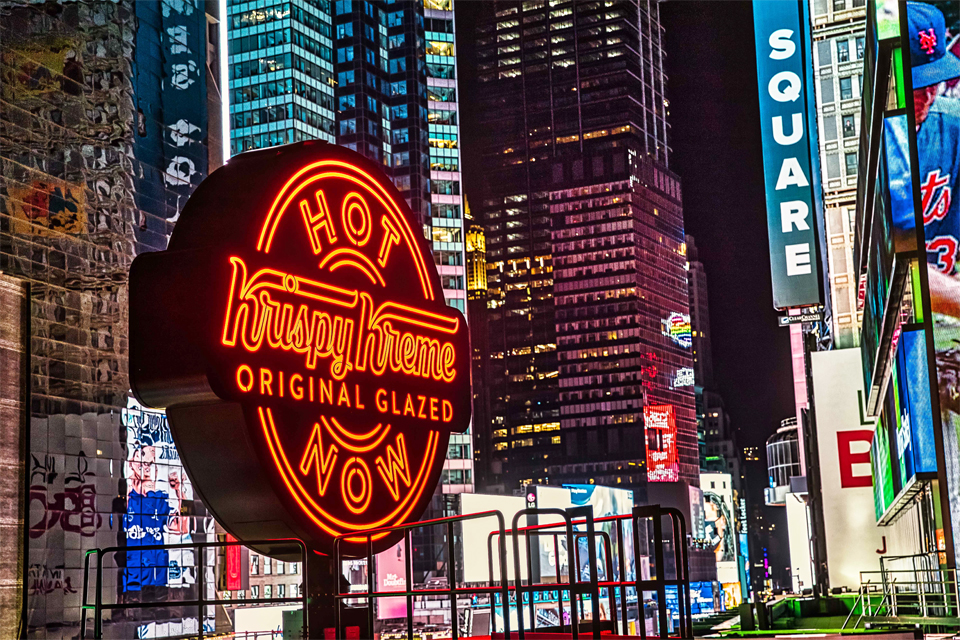 The iconic Krispy Kreme neon Hot Light has served customers since 1995. However there was a feeling that if you drove by any Krispy Kreme over the past ten years, consistency was not a strong suit—with words and/or lighting non-functioning. "After completing a large-scale internal procurement review, we determined that our current neon Hot Light signage was becoming a challenge to both our brand and our supply chain in terms of brand consistency, rising maintenance costs, time delays, sustainability issues, and increased municipal regulations and restrictions," says David Morris, director of Indirect Category Strategic Sourcing at Krispy Kreme.
The transition from neon to LED Hot Lights for franchisee-owned, corporate new shop rollouts and remodels has been a recent development for Krispy Kreme. "In December of 2017, the first LED Hot Light signs were installed as part of our Experience of the Future shop design in Utica, Michigan," says Morris. "Since then, more than 300 LED Hot Lights have been installed across the nation, and we will continue to do so throughout the next several years."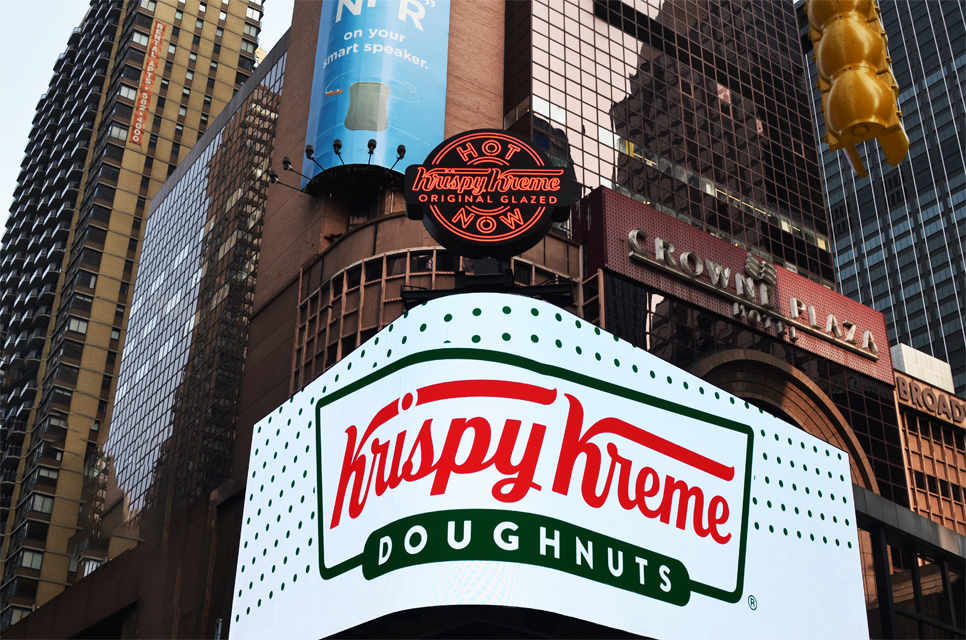 Anchor Sign, Inc., out of Charleston, South Carolina, has served as the nationwide signage vendor for Krispy Kreme for several years now, providing complete exterior building signage, monuments and pylons, architectural elements, awnings, canopies, drive-thru components, and complete interior signage and graphics packages for its corporate and franchise locations. They have led Krispy Kreme's LED Hot Light transition by designing a cabinet and face structure to maximize the LED lumen output and decrease lighting inconsistencies as well as reduce energy consumption while replicating this sign's iconic appearance.
"The team at Krispy Kreme is doing such amazing things with their signage and branding now," says Cade Thompson, vice president of Operations for Anchor Sign.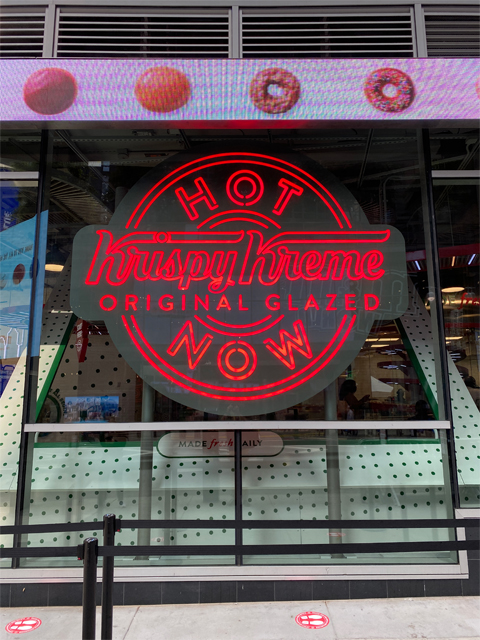 The company recently finished providing signage for a new Krispy Kreme shop in Harlem when they turned their sights to completing signs for the new Times Square location. While Krispy Kreme handled the large digital storefront signage, Anchor Sign, working with their long-time New York installation partner Mauceri Signs & Awnings, was responsible for the rooftop, interior, exterior, carryout area, and front facade signage.
Walk-Up Window Sign
One of the unique building features of the Krispy Kreme Times Square location is a walk-up window providing customers curbside ordering and access to hot doughnuts twenty-four hours a day. This LED sign is a separate design from the typical Hot Light sign (reading "Hot Doughnuts" instead). To assist in making this sign a reality, Anchor Sign reached out to FireBrand of Mount Pleasant, South Carolina.
The two vendors collaborated to specify the best red faux neon product here and to advise on the best way to display the sign behind the glass window so it still would be visible from the exterior while also concealing the mounting hardware on the back side of the panels.
"It was important for the 'Hot Doughnuts' faux neon sign to give the walk-up window a life of its own beneath the large video screens," says Steve Boreman, lead designer and the creative director at Chute Gerdeman, a vendor in Columbus, Ohio that also worked on this sign. "The street-level neon red makes it clear that something good is still happening at that end of the shop even after the front has closed for the night."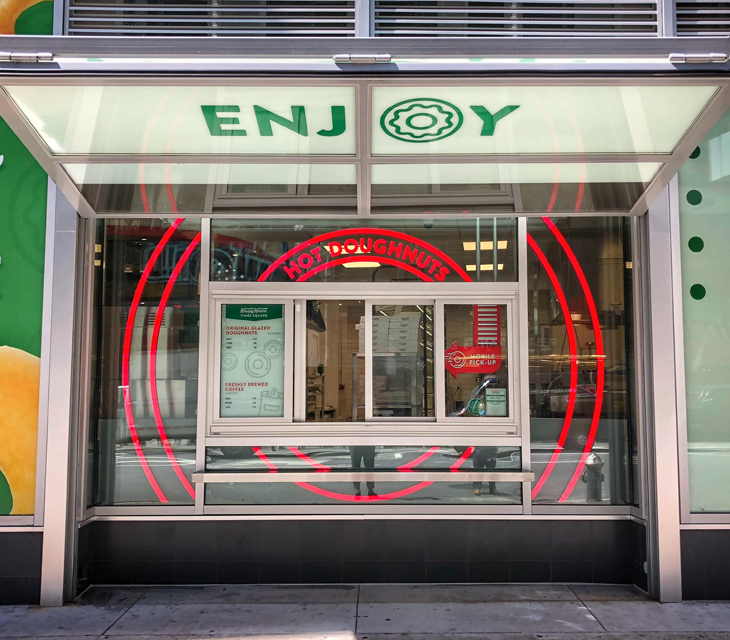 The companies agreed that the faux-neon carryout window signage would be manufactured on Provis Graphic's LaserLetter™ | Profile 11N platform, starting from solid, translucent, cast block acrylic with embedded LEDs. These 33mm-deep mounted letterforms were pre-assembled to 10mm-thick clear acrylic panels, including attachment hardware to mount the panels onto the window mullion systems. "Designers and brand owners love faux neon because it simply stretches the possibilities of design," says Kenan Hanhan, president and co-founder of Provis Graphic LLC. (Note: The sign is powered by 24V UL Recognized MeanWell power supplies also provided by Provis Graphic.)
Hanhan says that faux neon is trending in a big way in North America for good reason. "It's environmentally friendly, so there's no noxious gases released into the environment during the production process or in the field," he says. "There's virtually no breakage and lower maintenance because faux neon letterforms are completely sealed (actually IP 68 water submersible) which means that water, dust, and debris cannot penetrate faux neon elements, making it virtually maintenance-free for decades."
According to John Bailey, CEO and co-founder of FireBrand, this sign was made to look as if it is floating on the glass as it faces out to Broadway in Times Square. "We also made non-lit, reverse-cut red acrylic and placed them on the back of the acrylic panels to hide the mounting hardware from view within the shop," he says. "The backs of the panels have reverse flat cutout opaque acrylic letterforms to conceal the backs of the letters."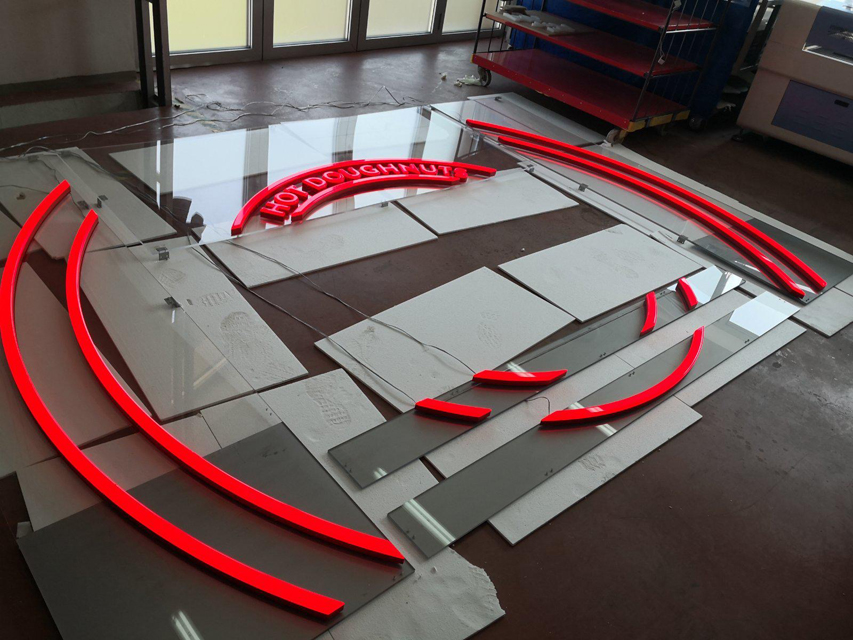 In order to make sure the signage and graphics would fit their branded environment theme, Firebrand ran a very thorough technical survey to determine the proper strategy to run electrical on the mullions. They had to be extremely accurate with their dimensions because they had to fasten the clear acrylic panels directly to the mullion system.
"We coordinated with the general contractor to remove the bottom glass panels behind the counter so we could install the clear acrylic panels with faux neon from the outside in" says Bill Washington, president and co-founder of Firebrand, adding that second-surface silver metallic graphics were applied behind the counter kneewall so as to hide the back of the counter from sight from the exterior street view. "The upper panels were installed from behind the glass from the inside of the shop. We then had to run conduit up the mullion system and run wires from behind the LED neon elements to the conduit concealing it from view and then up to the ceiling to the power supply."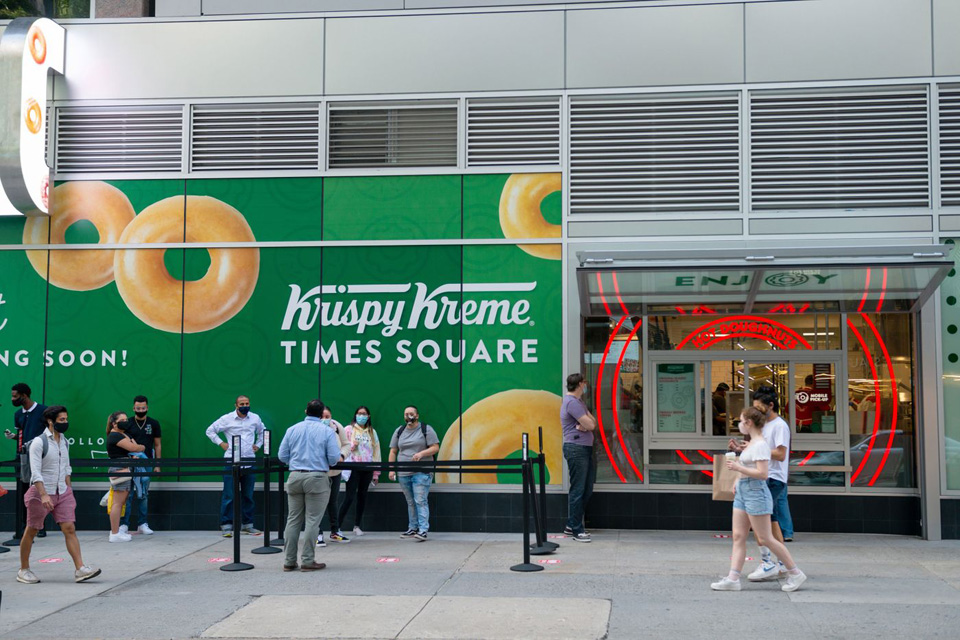 North Shore Neon, one of the best-known fabrication and installation companies in the New York City area, set up the faux neon LED signage; the reverse-cut, non-lit acrylic; and the second-surface graphics. Bailey says that they did a fantastic job doing so safely and on time.
"The sign is large, spanning the glass from sidewalk to awning, but it doesn't block a clear view into the shop to see the abundance of doughnut recipes on display," says Boreman. "The intensity of the red faux neon is pushed to cut through the flashing Times Square signage and calls attention to what's offered at the window: hot doughnuts. The message is clear and simple, and the illuminated letters are intended to be read from across the street."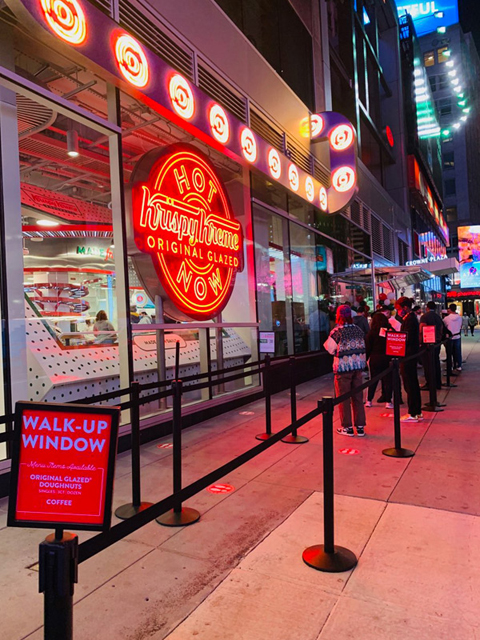 Thanks to pandemic-related social distancing measures, this can mean long wait lines for customers outside—yet lots of eyes on the sign during curbside pickup.
According to Bailey, navigating the pandemic proved extremely challenging. "The survey was luckily completed prior to the shutdown, and production ran smoothly," he says. "But then the shutdown delayed the project. Krispy Kreme was originally given 'essential' status but then that was removed for several weeks.
"They were granted status once the pandemic started to slow in New York City. Our on-site crews had to be frequently tested, and we were only allowed a minimal amount of personnel there at once."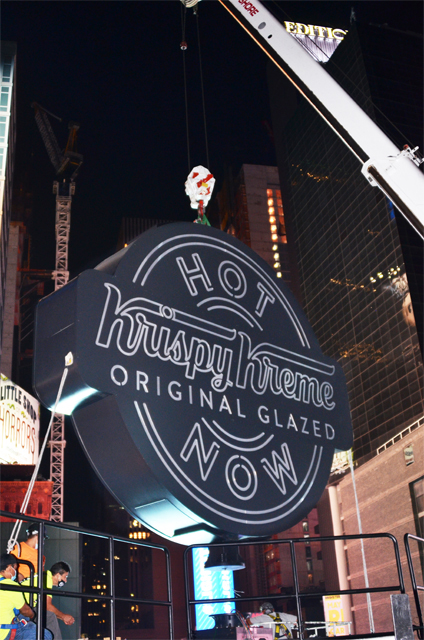 The Future Krispy Kreme Shop
The Times Square shop is part of Krispy Kreme's 2020 New York City expansion. For Thompson and the Anchor Sign team, it's been exciting to watch Krispy Kreme transition from neon to LED. "The new Krispy Kreme LED Hot Light comes with a seven-year warranty, and every remodeled and new shop is getting them," he says.
And Morris states that the new LED "Hot Light" serves as a perfect example of why Krispy Kreme Corporation feels they have the best Supply Chain team in the industry. "Anchor Sign's research, development, design efforts, manufacturing capabilities, and their nationwide roll-out of our next-generation LED Hot Light exemplifies a vendor exceeding our highest standards," he says. "We constantly look for suppliers who are industry leaders in quality control, continuous improvement, cost effectiveness, and innovation, and I am happy to say that the many vendors we partnered with on our Times Square flagship location represent these standards."
The good news sure to thrill Krispy Kreme fans both new and old is that Morris says to expect exciting new Krispy Kreme design concepts and features, as they continue to grow their shop count.
—Jeff Wooten