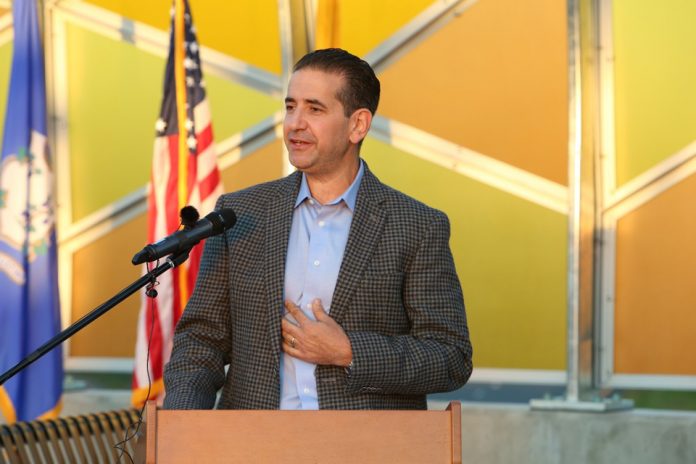 Peter Rappoccio (pictured, above), president of Sign Pro, joined New Britain, Connecticut Mayor Erin Stewart, local legislators, and members of the community in celebrating the grand opening of the new Beehive Bridge. The Connecticut-based sign manufacturing company served as a subcontractor to Martin Laviero Contractor for this project.
"This project was two years in the making and came to fruition through the hard work from Connecticut companies. The hardest aspect was making all the parts work together, but it was an exciting challenge," said Rappoccio. "We applaud Mayor Stewart's office for their innovative vision, and we take great pride in this project, which is now a gateway to the city."
Sign Pro fabricated the façade on the bridge which includes two bees at each bridge entryway, the Beehive in the center of the bridge, the 604 geometric shapes that make up the bridge wall, and the integration of multi-color, low voltage themed LED lighting. The structure stands 16 feet high and is connected by 138 vertical beams supporting the structure. The new Beehive Bridge connects Main Street with the "Little Poland" section of the City, which was divided in the 1980s by the installation of Route 72.
Sign Pro has been in the sign business since 1990 and is a family owned manufacturing company currently employing approximately 70 Connecticut residents. Sign Pro integrates lean techniques into all areas of the business to ensure the highest level of quality management practices. The modern technology deployed in Sign Pro business practices prepare the company for Industry 4.0 practices (Smart Factory), currently being globally deployed by Connecticut manufacturers.
For more information, visit www.signpro-usa.com.