The Milwaukee Bar Association has served Milwaukee's legal community, as well as the public, for over 160 years. A recent capital campaign conducted by the association was dedicated to creating an entirely new space for its members at its downtown Milwaukee location, in a site that was formerly The Granadier Restaurant and Lounge. Their goal was to "create a new facility to serve the next generation of legal professionals."
My company, Sign Effectz, Inc., is delighted to have helped out with this need. We had done work at the association's previous location, providing a donor recognition wall as well as removing signage when they moved. Because of our background, our team of sign designers, fabricators, and installers were a good choice for this new project, which would include a unique blade sign, branded windows, an interior logo sign, and a new donor recognition wall.
According to Sign Effectz Account Manager Josh Brown, getting involved before any work on the new space had begun was critical and influenced the site survey. "The site's interior was completely stripped bare, just a concrete floor and windows painted pitch black, when the association's director brought me in to share their vision for the new facility," he says.
We carefully reviewed their interior design concepts, which had evolved through the early stages of the project, as well as their brand guidelines that would align us with their specific brand identity requirements (the necessary selections for color scheme, font, etc.)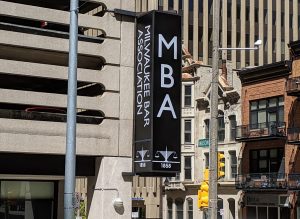 From there, Designer Adrian Esguerra developed the exterior sign design.
Blade Sign
Given the association's corner location in a well-traveled part of downtown, a unique four-sided blade sign was the perfect choice for providing visibility from just about every direction.
Due to neglect and/or disuse, a good portion of the existing exterior sign frame was corroded and worn out. There were a number of missing pieces, the electrical hardware was fried, and its sockets were melted.
"It was evident that the previous sign had electrical fires, maybe due to old technology, or lack of maintenance, or maybe even a lack of adherence to code," says Josh. "Regardless a good maintenance program will keep a sign from falling into disrepair.
"Signage is such an important contributor to advertising and good visibility. We can't stress it enough—servicing helps protect the signage investment."
Determining the ideal panel layout played an important role in getting the blade sign right, so we took extra time with the client on this part of the project.
"What's interesting is that you get twice as much square footage as a two-sided blade sign as well as visibility in a four-way intersection," says Josh. "This is important because the association is located on one corner of a well-traveled intersection downtown. It's essentially two, two-sided blade signs. For some communities, it's four times the normal square footage of a one-sided blade sign."
Branded Windows
One of the primary design challenges on this project involved removing the blackened windows and creating a welcoming environment by flooding the space with natural light.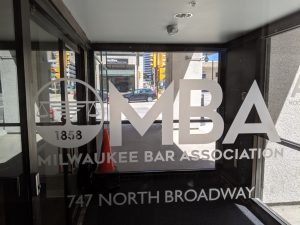 It turns out the solution was good old-fashioned elbow grease! The general contractor's crew manually removed black paint from fourteen very large windows using our recommended approach.
When the windows were completely restored, our guys applied the bar association's vinyl logo using application fluid, a squeegee, and painter's tape. Frosted vinyl was chosen for the association's logo to give it a professional etched look at a budget friendly price.
To determine the proper positioning of the logo on the windows and doors, we calculated average height and placed the logos at eye level. We proportionally increased the logo size from the center point and ensured they weren't cramming the edges of the doors and windows.
Interior Logo
The original plan was to use the same frosted vinyl on a big piece of glass to showcase the logo inside the office space.
However, as the interior design developed, frost on interior glass can look flat. In order to give it a dimensional feel, we instead went with clear acrylic featuring vinyl surface film and cut-out letters.
Shadows are one of the least expensive, yet effective methods when it comes to creating sign depth. Using 1/4-inch-deep clear acrylic with second surface vinyl graphics offered a glass appearance but on a much more economical scale. Accompanying 1/4-inch letters created 1/2-inch of depth.
Donor Recognition Wall
One of the association's most important goals was to display the differences between the donors and make the display align aesthetically with the rest of the new interior space.

This created the need for a very special donor recognition wall, which recognizes the various levels of donations that were made to the capital campaign. We were able to achieve this with acrylic letters and a digital display.
By Adam Brown
Photos: Sign Effectz