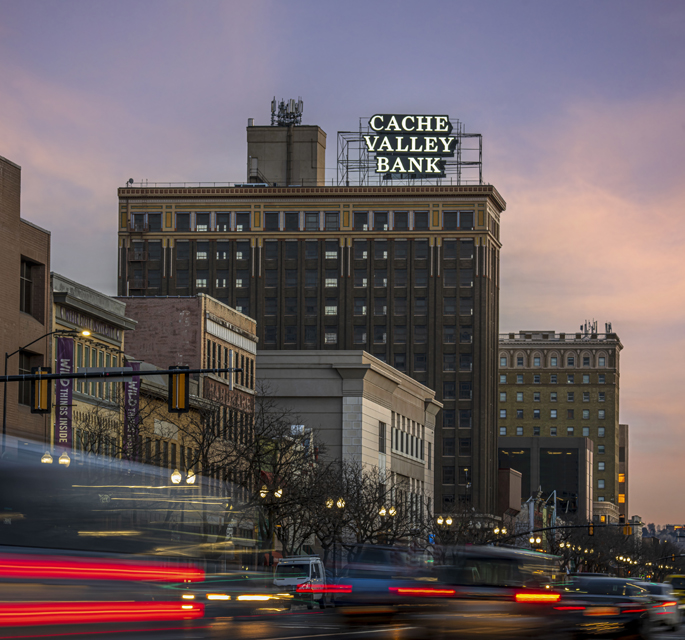 YESCO, the 102-year-old company known for creating, repairing, and maintaining internationally recognizable signs, announces the design, fabrication, and installation of new signage on the Cache Valley Bank building in Ogden, Utah.
Located on the southeast corner of 24th Street and Washington Boulevard, the signage is displayed on top of the historic 12-story building built in 1927. Previously housing Wells Fargo operations and signage, the bank is one of the tallest buildings in the city. The original sign on top of the building was for First Security Bank and was one of the largest projects built by YESCO in the late 1920s.
Featuring one north-facing sign and one south-facing sign, the new LED signage provides a bright display and changeable colors for holidays and special events.
The overall size is 21-feet-tall by 31-feet, eight-inches wide and is one of the most visible signs in Ogden. The sign weighs approximately 2,300 pounds.
The letters are five-feet-tall and have dark gray backer panels to stand out. The letters were hoisted approximately 150-feet in the air for installation.
The Ogden City Council placed the building on the Ogden City Register of Historic Places in 2018.
"This building has existed for nearly 100 years, so it is a thrill to work on a property such as this in the heart of downtown Ogden," said Kim Thomas, Account Executive, YESCO. "Adding to the vibrancy of the city, the Cache Valley Bank sign illuminates the historic skyline."
—Press Release