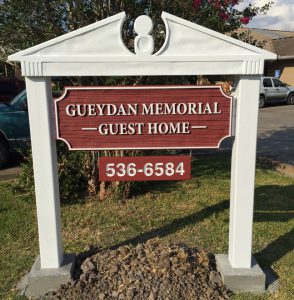 Bob Hanks, a commercial artist who works frequently in architectural signage and owner of Sign Graphics 214 in Lafayette, Louisiana, has been in the business long enough to observe a change in the fabrication of signs.
When Hanks opened his shop about twenty years ago, he fabricated many signs from redwood. Now, while Hanks still restores, repairs, and repaints existing redwood signs, the majority of his work is fabricated from high-density urethane (HDU).
In fact, he recently completed a post-and-panel project using HDU for the Gueydan Memorial Guest Home located in Louisiana.
"I'm a vendor that does sandblasted sign work and architectural graphics for about three other sign companies in the area, and this job came through a company in this area called All Star Signs & Specialties," explains Hanks.
All Star Signs supplied a photo of an existing sign that they wanted to model this project after, and Hanks took that photo and used Adobe Illustrator to design the sign.
Hanks next got to work on fabricating the elements of the single-sided post-and-panel sign, including the 18-by-48-inch main sign face, the shingle that hangs below it, and the architectural elements with the cornice at the top.
All the pieces were cut out from one-and-a-half-inch-thick, fifteen-pound Sign·Foam HDU using a small Bosch power router. (Note: If you're creating a double-sided sign, Hanks recommends moving up to two-inch-thick, fifteen-pound HDU.)
Hanks says he used a combination of router bits on this project. "I use the roundover bit anywhere from 1/8-inch to 3/4-inch. I also use a very common bit in architectural finishes called a Roman Ogee. It's made to assimilate molding, like picture frame molding. It's real handy on some signs, and it makes a nice finish."
Once the pieces were cut out, the plan was to sandblast the sign. So after vectorizing the design, Hanks created a stencil in Mimaki FineCut software and then cut it out using a Mimaki CG-130FX plotter.
Hanks ran into a bit of a challenge with the pattern for the architectural elements at the top of the sign.
"When you cut the sandblast stencil, that makes an automatic pattern for you," he says. "When the pattern was cut somehow, it was a little bit off.
"So the challenge there was to use one side that was correct on the pattern cut and just flip it on over and use that to make them symmetrical; this way I wouldn't be off."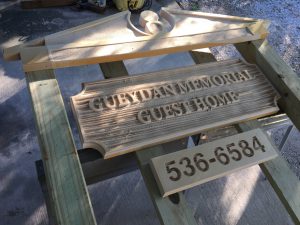 For the sandblasting portion of this project, Hanks teamed up with Blast Works, LLC out of Carencro, Louisiana. The company completed the sandblasting with its Dustless Blasting machine with a special grit material, which allows for some of it to be recovered.
Blast Works, LLC used the incised blasting method to blast out the letters on the main sign panel as well as the phone number on the shingle sign. This method involves covering the sign with a sandblast resist or a mask and leaving only the parts to be blasted   out exposed.
Blast Works also completed sandblasting on the background of the sign elements to give them a stucco-like finish.
Hanks and Blast Works, LLC then went back to the main sign panel with a Grain·Fraim, which is a specially engineered sandblasting screen used with Sign·Foam that makes it easy to replicate a natural wood grain texture. The Grain·Fraim has multiple wires with adjustable tension. Users place the Grain·Fraim in front of a pre-masked sign and sandblast through its wires until the desired depth is achieved.
When the sign pieces were completely sandblasted, Hanks laid them out and positioned them in place with the posts, in order to get a better sense of the finished fabricated design. He then got to work on painting.
Hanks first applied a waterborne, latex primer from PPG. Next, he painted the pieces with 100 percent acrylic latex PPG paints using a combination of a Wagner airless sprayer, paint brushes, and four-inch and six-inch rollers with 1/4-inch nap. (Note: Hanks says to reserve rollers with longer 3/8-inch or 1/2-inch naps for applying primer.)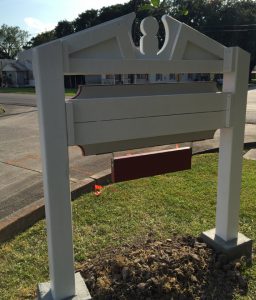 In total, the fabrication of the post-and-panel sign took about fifteen working days.
To install the sign, Hanks started by digging and prepping the two footings for each post.
The next day, Hanks came back with the sign support structure, which included two six-inch-by-six-inch solid wood posts. A pair of two-inch-by-six-inch wood planks secured the posts together and were connected with Gorilla Wood Glue and Tapcon 1/4-inch-round construction screws.
For additional support, two two-inch-by-two-inch wood blocks were screwed behind the wood planks and into each column.
"The smaller blocking was glued and secured with screw fasteners to make it solid; that way, nothing moves on you as you put it in the ground," explains Hanks. "Even though you have a sign installed in concrete, you can't put enough fasteners."
Once the sign was in the ground, but before pouring the concrete, Hanks temporarily secured a two-inch-by-four-inch wooden board across the back of the sign to help ensure that the sign was level.
"Once you set it in the ground, you place your level on top of that two-by-four, and you level everything before any concrete is poured," he says.
Hanks then poured 3000-psi concrete for the finished, formed footings. Hanks also installed 1/2-inch-round, reinforced steel bars inside the concrete.
"The reason I like to do a finished footing is because people who come in and do lawn service with the weedeaters will tear your wooden posts up if you don't do this," explains Hanks.
Once the support structure was set and the concrete dry, Hanks came back and secured the HDU sign elements and the architectural elements to the structure with Tapcon 1/4-inch screws.
The drop-shingle HDU sign was mounted beneath the main panel using two four-inch-by-four-inch metal L brackets.
Installation took a total of three days since some bad weather forced Hanks to come back a third day to finish the job.
By Ashley Bray
Photos: Sign Graphics 214