Korean fashion brand F&F recently turned to the 3D printing expertise of Printhpole to produce a stunning P-O-P display for Major League Baseball (MLB) that knocked the competition out of the park.
The Korean industrial equipment trading company and total finishing solutions provider created a larger-than-life baseball player on its Massivit 1800 3D printer. The elegant figure, measuring 8.5 feet high feet high and weighing 23.1 pounds, exemplifies how retailers can provide a more entertaining and engaging shopping experience by connecting consumers to their passions. It took just thirteen hours to print and was finished in Candy Paint.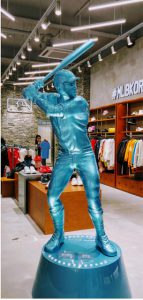 This baseball-related project was the first time F&F have chosen 3D printing to create stand-out, instore displays.
Previously, F&F worked with a conventional mannequin provider who recommended large format 3D printing as a way to meet their very tight deadline.
F&F was delighted the time-frame was adhered to and that a high-quality finish was achieved in time to incorporate their specific design and color requirements.
The space planning team at F&F stated: "It is the first time we have worked with Massivit 3D printing and the result is far better than we expected. We loved the high quality and how this technology supported design and finishing flexibility. Also, we were very happy to be able to meet the project's very tight time schedule. We look forward to having more projects with Printhpole and Massivit 3D printing in our other stores and brand advertisement-related jobs."
Founded in 2013 by a team of digital printing pioneers, Massivit 3D is headquartered in Lod, Israel, and serves customers worldwide with end-to-end services and through a well-distributed network of global resellers. For more information, visit www.massivit3d.com.