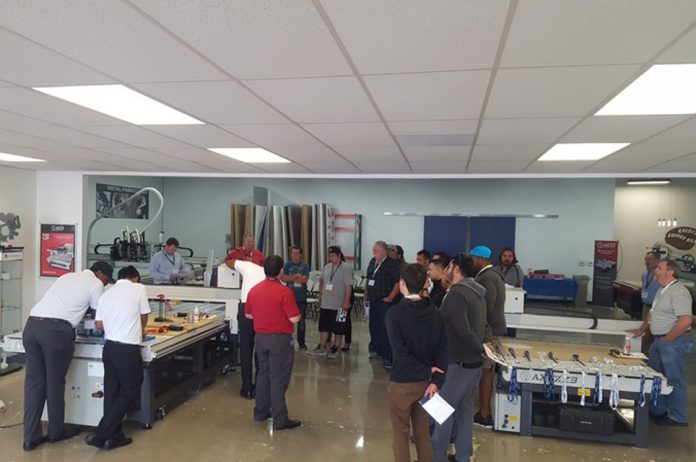 AXYZ International, a global leader in manufacturing CNC router and knife cutting systems, announces its first series of two-day CNC Router Expos. During the Expos, attendees will be able to view AXYZ's extensive line of CNC machines installed with the latest options and upgrades. AXYZ's experienced CNC router specialists will be onsite to provide in-depth demonstrations and custom solutions as well as answer questions on material processing, machine configurations, software and tooling. The Expos will be held at AXYZ sales and demonstration facilities throughout North America.
"The great part of AXYZ's CNC Router Expos is that we are bringing our experts to customers, prospects and other members of local communities," said Greg Jenkins, Vice President, Sales, for AXYZ International. "The technical sales staff are skilled at matching the right pieces of our technology with customer requirements. The application specialists are experts in the real-life implementation of the machines. With the years of service, training and application experience, they can answer all the 'how-to' questions."
The CNC Router Expos start at 10:30 a.m. each day. For the Expos in Quebec and Ontario only, the machines will run demonstrations all day. For the other Expos, there will be machine-specific workshops, which include demonstrations. On the first day of each Expo, there will be workshops on the Trident at 10:30 a.m. and on the PANELBuilder at 1:30 p.m. On the second day, there will be workshops on the Pacer at 10:30 a.m. and the Optimus at 1:30 p.m. On both days there will be a CNC Router Maintenance workshop at 1:00 p.m. Demonstrations will include cutting printed foam board, corrugated material, acrylic, precision board, aluminum composite, wood and foam.
The AXYZ team will focus on specific application features at all locations. "The new Optimus machine will be shown processing cabinet parts designed in KCD software for woodworkers. The speed and accuracy of the Trident machine will be demonstrated by processing a graphic print that is machined on both sides and flipped to be completed. We'll also show Engview software for corrugated packaging and display creation," said Jenkins.
AXYZ International's specialists also will highlight the speed and smoothness of cut in aluminum and acrylic when using the Pacer machine. The PANELBuilder presentation will review the new features of PANELBuilder 18 software and demonstrate the new and improved PanelPrinter for ACM panel marking. "We also will discuss the new saw attachment for cutting fiber cement and high-pressure laminate products in the cladding industry," said Jenkins.
CNC Router Expos will be held at the following sales and demonstration facilities:
* Florida: April 12-13, 1911 N US 301, Suite 200, Tampa, FL 33619
* Alberta: April 25-26, 410-4615-112 Avenue SE, Calgary, AB T2C 5C5
* New Jersey: May 9-10, 24 World's Fair Drive, Suite D, Somerset, NJ 08873
* Ohio: May 23-24, 2844 East Kemper Road, Cincinnati, OH 45241
* Quebec: May 30-31, 1305 Boulevard Dagenais Ouest, Laval, QC, H7L 5Z9
* Ontario: June 13-14, 5324 South Service Road, Burlington, OH, L7L 5H5
To register for any of these CNC Router Expos, please email Nicole Silaphet at [email protected] or call (905) 634-4940, ext. 286.