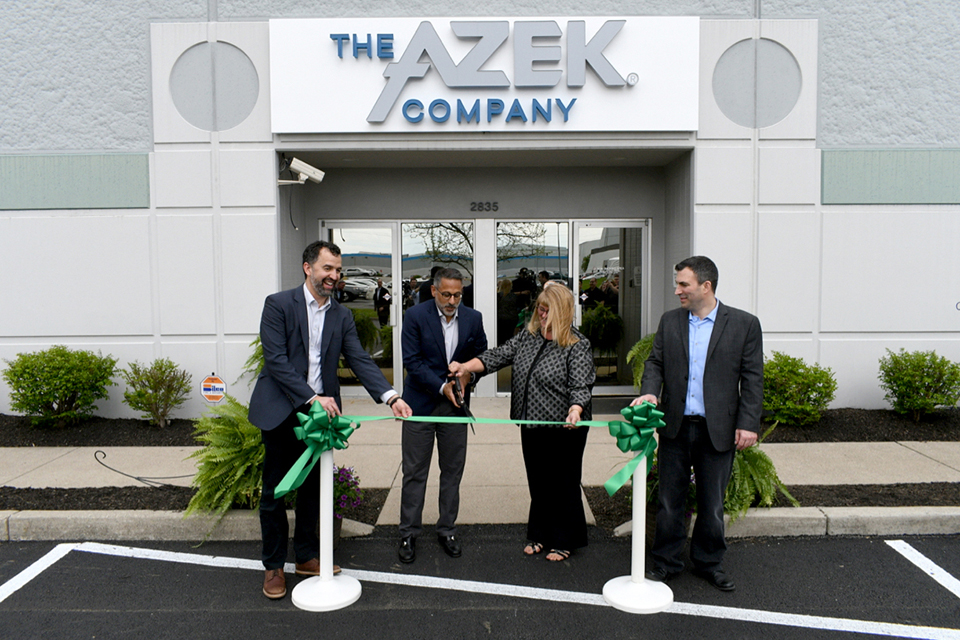 Now the same people who build incredibly beautiful decks are laying the groundwork for eco-friendly sustainability in manufacturing as well. AZEK Building Products—the sister company of Vycom Corp., both divisions of The AZEK Company—unveiled its new brand new 100,000-plus-square-foot green recycling plant in Wilmington, Ohio. This dedicated facility accepts post-consumer and post-industrial recycled polyethylene materials from recyclers, waste management companies and municipalities for reprocessing into multiple product lines including TimberTech® deck boards and Vycom® sheet products. The company will continue with its commitment to be good stewards of the environment by exploring ways to recycle other types of plastic waste across multiple markets and end-uses.
The new TimberTech Recycling Plant aims to do a world of good for planet Earth. Plastic and wood materials sourced by recyclers are being used to create the core of all TimberTech composite PRO and EDGE deck boards (both made with 100 percent recycled resin). More than 55 million pounds of plastic is expected to be recycled this summer alone, transforming shampoo bottles, milk jugs, plastic wrap, and more into dazzling, durable decking material.
The company's goal is to recycle up to 200 million pounds of waste material by 2020, and this plant is a major step forward. It contains a high-efficiency, continuous manufacturing line—featuring advanced technologies from Europe, the leader in sustainability and recycling—that turns recycled products into raw material that can be molded into a composite. Throughout the manufacturing process, unique sampling locations have been positioned to ensure quality requirements, and technicians collect these samples and test for quality using state-of-the-art analytics to ensure all material standards are maintained. Additionally the facility uses energy-efficient systems for power, water, heating/cooling, and lighting.
The plant was unveiled at a ribbon cutting ceremony on Tuesday, April 23.
From saving trees and reducing waste to conserving water and having energy efficient facilities, the company is proud to offer high-quality products made from up to 80 percent recycled material in their TimberTech PRO and EDGE decking lines.
To learn more about the sustainability efforts of AZEK Building Products, visit www.timbertech.com/about/sustainability.
—Press Release