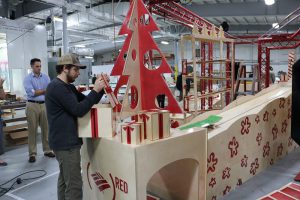 If you're of a certain age, mention of "Rube Goldberg" brings to mind the cartoonist's convoluted machines designed for accomplishing simple tasks. Others may know this creative reliance on chain reactions from playing the favorite childhood game Mousetrap.
Recently Britten, Inc., of Traverse City, Michigan designed and delivered a modern-day Goldbergian take on such comic engineering for visitors to New York City's Bryant Park.
Sponsored by Bank of America to promote and support its affiliation with the charitable organization Project (RED) (red.org) and its efforts to end AIDS in Africa, this life-sized "Rube Goldberg Experience" drew crowds and raised thousand's of dollars in donations, twenty cents at a time, over four days in early December.
Event marketing specialists Octagon coordinated and managed the project on behalf of client Bank of America.
"One of their executives had an idea for some type of machine or physical structure to demonstrate how one small change can have a major impact," says Tiffany Murphy, senior event producer for Octagon.
The goal was to engage and entertain the public while showing how every contribution to Project (RED) builds into life-changing benefits, providing much-needed medication for those in the Third World.
A Rube Goldberg Experience
Murphy put out a request for proposals on a "Rube Goldberg" experience to convey that concept and encourage purchases of (RED)-affiliated brands, with special requirements. The contraption had to be designed, built, and installed inside a 30-by-30-foot pavilion in just over a month.
The folks at Britten, she says, "got the concept immediately," and guaranteed they could meet the deadline.
According to Britten officials, their company has thirty-plus years of experience helping some of the world's largest brands visually connect with their audience.
"We still do a lot of digital printing, but another area we have really grown into is what's called 'experiential' or 'event' marketing, and we have worked with Octagon on several projects befor," says Mike Dudek, senior designer at Britten. "A lot of customers turn to us because they know we can execute a project quickly."
Paul Britten, president of Britten, crated and submitted a balsa wood miniature prototype of how his company could deliver that experience. Thanks to that effort, Britten was awarded the assignment.
With only twenty-eight days to go until the launch of the campaign, this project landed on the desk of Designer Anna Paddock.
Her working guidelines: Create a "Rube Goldberg"-styled machine running less than five minutes, incorporating ten elements showcasing products from brands partnering with (RED).
Those brands include Alessi, Amazon, Apple, Mophie, Vilebriquen, Vespa, Line Friends, EOS, Line Friends, Theory11, Chocolate, Fatboy, S'well, and Aden + Anais. A portion of sales of their select products would be donated to the charity.
"When it started it was like 'Here's a concept, now you figure it out,'" jokes Paddock. "It was nice to be given complete creative freedom, however at the same time, it was very challenging because of the time constraints involved."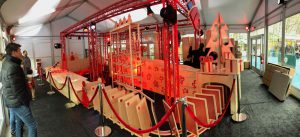 Partly inspired by a Rube Goldberg-styled video for the song "This Too Shall Pass" by pop/rock band OK Go, Paddock set to work. Initially she concentrated on designing ten separate event stations, modeled on old-fashioned toys, then matched appropriate products to each.
From Design to Build
"There was a lot of back and forth and minor revisions, but once we had that series of machines, it was primarily up to our engineers to figure out how each element would interact with and trigger the next," adds Dudek.
By week two, the Britten team had a working 3D model built through the use of Rhinoceros CAD software; then the project moved from concept into actual production.
Aluminum trusses that support the machine and stations were painted with Project (Red)'s logo color, while graphics for each element were printed directly to seven-ply birch plywood panels with the company's Inca Turbo flatbed. These were shaped as needed with a MultiCam 3000 CNC router.
"We used all our equipment resources," reports Senior Industrial Designer Wayne Stiles. "It was a great challenge, considering the time frame, but we were able to hit all the sweet spots and utilize all the talents of our company."
In the final week, the entire machine was built and tested at Britten's production facility in Michigan before the stations were dissembled and shipped to New York City.
Seven persons who contributed to this team effort made the trip to assist with the installation and oversee operation. In addition to Britten, Paddock, and Stiles, this group included Artist and Account Coordinator Valerie Hyrman, Junior Industrial Designer Jon Asava, CAD Designer Max Arbury, and Fabricator Jon Schaffer.
Wow!
When doors opened to the public, the "wow" factor was immediate.
Visitors were invited to step up and swipe a gargantuan Bank of America Card through a giant card reader, generating a twenty-cent donation to Project (RED). Monitors tallied the swipes, building towards 200. When that number was reached, the real magic began, and the machine launched into action.
In the first station, a pulley lifted a plastic piece which bounced down a series of pinwheels until the last triggered the next event, where another pinwheel rolled along a track passing a mantle hung with Christmas stockings, which activated smoke billowing from the fireplace chimney.
Then the wheel struck a sled, which slid down a hill setting cutouts of fir trees spinning.
The sled then hit a ball to launch the next sequence. There a series of balls rolled down a figure-eight course, until a circle was filled and a ball rolled out to set a line of playing cards toppling over in a domino effect.
The last card fell on a switch to release a bowling ball, which rolled down a track before falling on a striker to ring a bell that set the first in a series of five balls rolling down sloped tracks.
The fifth ball released a catch to set a bottle gliding down a zip-line until it struck and set off the last station.
From there, a wrapped present affixed to a skateboard rolled down a wintery hill to a Christmas tree where it triggers the dramatic finale with billowing smoke, bells ringing, and animated sequences playing on digital display panels. (Note: To view the entire display in action, visit https://bit.ly/2TPmFQd.)
"To be there in person and see how well it worked, as well as the reaction of children and their parents, was pretty exciting," reports Paddock.
"This is the kind of project we like to embrace because it really gives us a chance to show all we can do," says Dudek.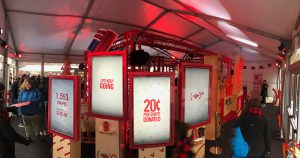 Murphy considers it a winning experience for all involved.
"To say we're satisfied doesn't express how happy we are with how this turned out," she says. "We're super-satisfied. Britten really outdid themselves on this one.
"To turn something like this around in just thirty days—taking it from concept to design and build—is definitely not the norm."
Murphy's contacts at Bank of America are so happy with the end-result that they're exploring ways to repurpose this "Rube Goldberg Experience" for other events and venues.
"The way products are featured throughout the machine, it's such a a creative way to build brand awareness," says Murphy. "It also shows what's possible when you work on a project with great partners."
By Mike Antoniak
All photos: Britten, Inc.