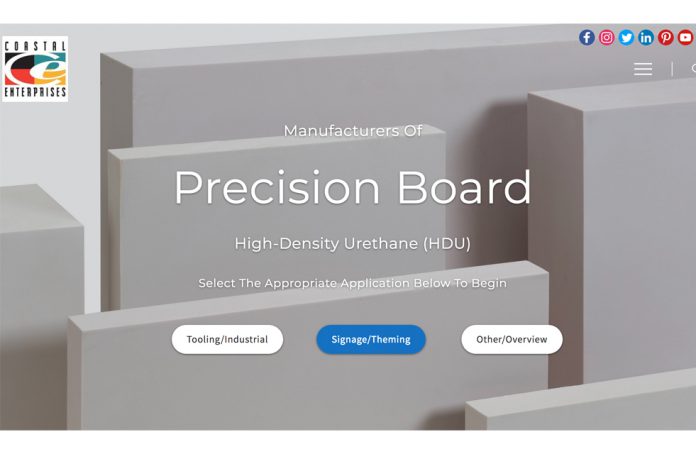 Coastal Enterprises, manufacturers of Precision Board high-density urethane, has completely upgraded and streamlined the www.precisionboard.com Web site to make the visitor experience fast and fruitful.
"We know that time is money," said Chuck Miller, president of Coastal Enterprises, "so we simplified the home page with buttons for the most popular Precision Board HDU applications- tooling and signage. Now you can quickly access resources and find what you need faster."
While the look of the Web site is more modern and updated, the same great content is there, including speeds & feeds info, training videos on use of their companion products (primer, adhesives, coatings, etc.), how-to's, FAQs, and the Precision Board Blog.
Additionally, the Web site now has:
Resource pages for Tooling/Industrial, Signage/Theming and Other;
Access to the most popular content on the home page: Router Bit Selector Guide, Material Selection Guide, Request a Quote, Request Free Samples, and Sustainability Information; and
Quick Menu Bar at the bottom, with links to the company's PBLT and PBHT info pages
Precision Board HDU is a versatile, cost-effective and eco-friendly high-density polyurethane. It is a closed-cell rigid substrate that does not rot, warp or crack. Coastal Enterprises has a large inventory, offers quick turnaround of days not weeks and has custom services, including custom bonding, step tools, layup tools, and custom sheet-cutting. For more information, call (800) 845-0745 or visit www.precisionboard.com.