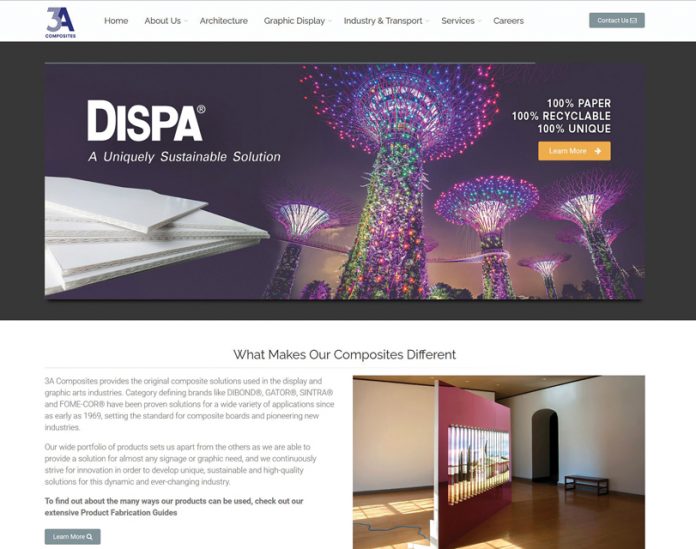 3A Composites USA has strengthened its on-line learning opportunities for both graphic display customers and product distributors with e-learning webinars and courses easily accessible within its redesigned graphic display Web site. This updated Web site also features simplified navigation and mobile-friendly features, making it even easier for users to find product information and design solutions with the company's collections of FOME-COR®, SINTRA®, GATOR®, DISPA®, DIBOND®, and LUMEX® G graphic display boards.
The COVID-19 pandemic and its required social distancing have changed the way that companies provide product information to their customers. Face-to-face meetings have been limited or even banned during temporary business closures due to quarantines. This is why 3A Composites opted to redesign its Web site.
"The coronavirus pandemic has required graphic designers and fabricators not only to adapt their own business operations to meet changing local health department requirements but to develop new signage, display and barrier solutions for retail, restaurant and office clients as they meet health and safety guidelines," said Chuck Kunze, director, product management and marketing, 3A Composites USA. "As part of our e-learning initiative, we've conducted a series of live learning webinars during the past year that focus on our rigid substrates and ways in which they can be utilized to provide customers with COVID-19 signage and graphics solutions.
"Replays of these webinars—as well as our e-learning product and distributor training modules—can be accessed at any time on our Web site. We have always valued our customers' time and want to make the most of it when they visit our Web site. That's why we've improved the overall Web site user experience with easy navigation and mobile-friendly features. We want customers to be able to access product information quickly and efficiently from all of their electronic devices and are pleased to now offer a mobile friendly solutions tool."
User-friendly features available on 3A Composite's redesigned graphic display Web site include:
E-Learning. "Live Learning Webinars" are focused on a variety of timely topics ranging from information about 3A Composites' continually expanding collections of rigid substrates to retail responses to the pandemic and current trends in material choices for sustainability. Webinar replays are easily accessed via the Web site. Customers interested in virtually attending 3A Composites' next "Live Learning Webinar" may register on the company's Web site or by contacting Michael Lawrence, learning and development manager, 3A Composites USA.
Additional e-learning opportunities available on the Web site include the "3A Composites Product Overview" module and the "Doing Business with 3A Composites" course for distributors.
Solutions. Visitors can access 3A Composites' enhanced product solutions search feature from the Web site home page. The solutions feature has been updated with a more robust set of filtering parameters that allows users to search based on material, application, fabrication method, product properties, colors and thickness to find the right product for next projects. The solutions feature now is mobile friendly, allowing searches to be conducted easily from mobile devices anywhere at any time.
Distributors. For site users ready to purchase products, the "Find a Graphic Display Distributor" tool is easily accessible from the home page. This tool allows nearby 3A Composites' partner distributors to be found by entering a full or partial address, state/country or zip/postal code. Selecting a specified product(s) then narrows the search, showing a list of distributors in the area that carry the selected product(s).
Articles/Blog. 3A Composites' case histories and blog entries showcase creative designers, artists, and architects who have transformed their ideas and visions (https://www.youtube.com/watch?v=z9PG0JY8-aY&feature=youtu.be) into tangible results using the company's versatile composite materials.
For more information, call (800) 626-3365.
—Press Release