When the Lynn Family Stadium in Louisville, Kentucky opened this year, it became the largest soccer-specific stadium in the region with a capacity of more than 15,000. It also boasts a standout, all-encompassing sign package thanks to Rueff Sign Company, Inc., also located in Louisville.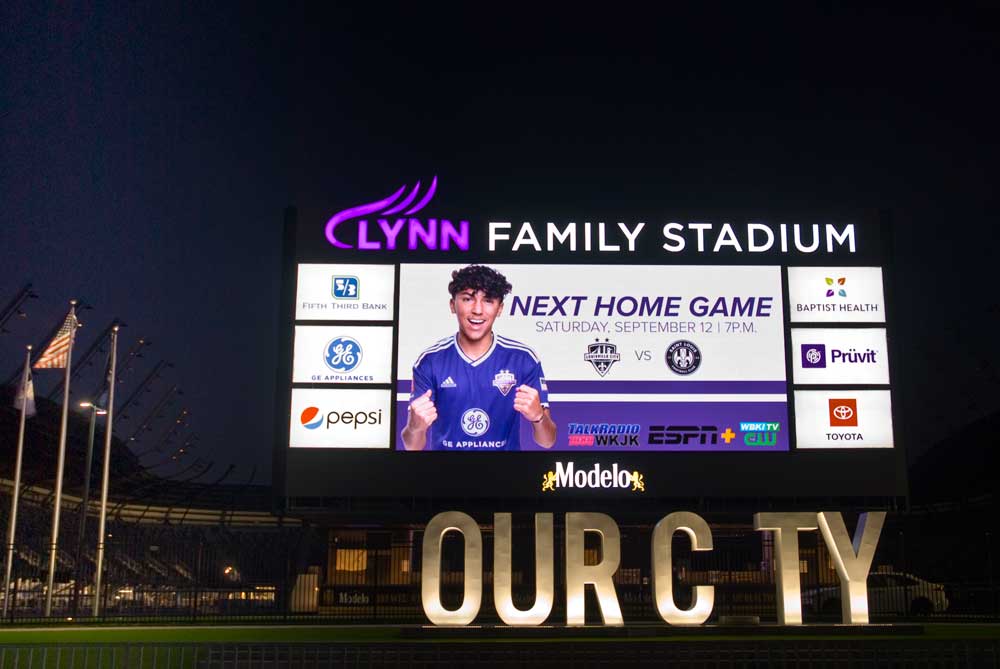 The sign company has done it all over its century-plus in business including neon, painted, electric signs, and high-rise installations. Today the full-service sign company has installed signs on nearly every skyscraper in Louisville, and it continues to produce custom creations of all types—despite hurdles like the current pandemic.
"The COVID-19 pandemic has affected us in a wide variety of ways," says Carl Rueff, sales representative/project manager at Rueff Sign Co. Inc. "First we have all learned a lot about viruses and how to stay safe with this one in particular. Second it allowed us to flex our resiliency muscles when [our] governor mandated a shutdown of all non-essential businesses. We could only work on signs that were deemed essential or on construction sites.
"We had to temporarily furlough 75 percent of our labor force for seven weeks until businesses were allowed to start opening back up. Since then, we have continued to stay busy and healthy by following the state's health guidelines."
In fact, Rueff Sign Company was working on the signage package for the Lynn Family Stadium project right through the shutdowns. It was brought in on the project after its request for proposal was accepted. "One of the main components of the RFP was a statement of qualifications, which I found out later was a shining factor in why we were chosen," says Rueff. "In addition, we also were able to provide a more cost-competitive proposal since we would fabricate all of the signs in house."
The statement of qualifications stood out since it demonstrated they're capable of working under time crunches on big jobs. It also compared signage they had built and installed on other large-scale projects to proposed signs for the soccer stadium. (Note: You may remember Rueff Sign Company from our January 2019 story, "A Sure Sign Bet," which covered their work on the Derby City Gaming signage.)
Due to a delayed stadium opening, the project went into overtime, with Rueff Sign Company getting approval in March 2019 and finishing the job in May 2020. "We waited until the soccer stadium was filled out and you could go and measure things, field verify everything, etc.," says Rueff. "We really started getting heavy into production in January, February, and March."
While the majority of the signs were built and installed before the COVID-19 shutdown, the sign company still had a decent amount of signs that needed to be made and installed before the clock ran down. "In order to complete these signs on time, Owner Bob Rueff, Foreman Alan Rueff, and myself (the project manager) had to switch gears and start fabricating and painting the signs," says Rueff. "In other words, the remaining few employees had to buckle down and put on a few more hats."
Rueff says working with partners on this project—Messer Construction, Hollenbach-Oakley, and Lou City Soccer—that were willing to find solutions made getting the job done easier.
As for the signage itself, the company was tasked with creating and installing every sign in the stadium except for the Daktronics LED message boards. "This includes all of the directional signs, ADA signs, branding signs for the soccer club, concession signs, naming rights signs for the stadium itself, etc.," says Rueff.
Channel Letters
Rueff Sign Company provided three sets of illuminated channel letters reading "Lynn Family Stadium"—two sets on the east and west sides of the outside of the stadium and one set on the scoreboard. The letters spelling "LYNN" measure four feet, two inches tall, and the letters making up "Family Stadium" measure three feet, eight inches tall. The swooped logo element beside "LYNN" measures 10 feet, 3 inches high. The entire length of each sign is sixty-nine feet long.
All three channel letter sets were constructed from 5.3-inch black channel coil for the cans, which were hand bent. For the faces, .177-inch white polycarbonate with two-inch black Jewell trimcap was used.
Allanson's RGB3 color-changing LED illumination system was used in the logo swoop as well as the letters in LYNN. Both elements can light up and change color separately from the rest of the sign. Principal LED Street Fighter Middleweight true white LEDs were used in the other letters.
Although fabrication was the same across the three channel letter sets, the scoreboard letters required some additional work. For one, part of the logo swoop rises above the scoreboard frame, making the backside visible, so Rueff Sign Company made sure both sides were illuminated. "It's actually a double-faced channel letter with square-tube framework for rigidity," says Rueff.
In addition, the gray background behind the channel letters and the Modelo logo at the bottom of the scoreboard wasn't originally planned. But when Rueff Sign Company realized there was going to be no background to fasten these elements to, they got to work building a backer made out of two-inch-thick aluminum pans and two-inch thick-aluminum square tubes. The backer was painted with gray Matthews Paint.
The shop mounted and installed the backer in sections to a 4-by-33-foot custom steel frame with three-inch square tubes that they also built. Two of these frames were also installed to the vertical I-beams of the outside of the stadium for the other two channel letter sets.
To install the channel letters, Rueff Sign Company used their 115-foot Sky Hook Crane and a Genie S-85 straight boom lift.
Scoreboard Additions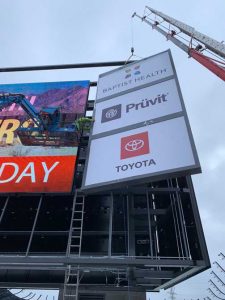 Rueff Sign Company also fabricated two sets of flex-face sign systems with triad panels for either side of the LED display. Each triad flex-face sign was constructed in one cabinet from aluminum and measured 24 feet, 4 inches-by-13 feet, 3 inches. Each of the three sections features a printed flex face internally illuminated by Principal LED Street Fighter Middleweight true white LEDs. The tri-pans were installed using Rueff Sign Company's 115-foot Sky Hook.
The Cerveza Modelo elements at the bottom of the scoreboard were fabricated in much the same way as the channel letter sets, except Rueff Sign Company used its SDS Automation Super ChannelBender. "It was helpful on the little lions because those lions were really intricate," says Rueff.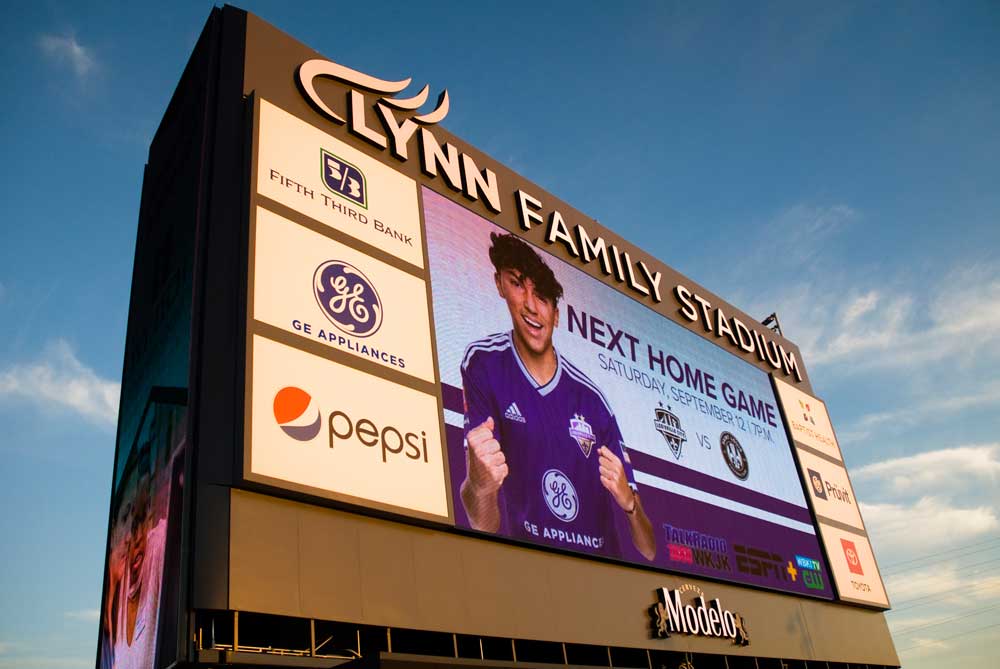 These elements were lit with white Principal LED Street Fighter Middleweight LEDs. Installers were able to stand on the roof to access the install site.
Letter Forms
One of the more unique elements of the sign package is the eight-foot tall letter forms the sign company created spelling out "Our City." The "I" in city is missing to enable someone to stand in place and serve as the letter for a photo-op.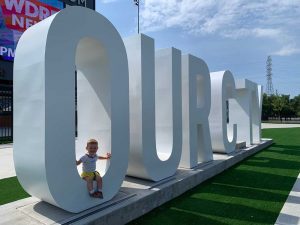 The faces are routed from 1/8-inch-thick aluminum. The shop then custom formed the 30-inch-deep returns from .090 hand-bent aluminum using hand rollers. "We welded the returns to the faces with 1/8-inch-thick gussets and inside retainers to keep them straight. We inserted the four-inch aluminum square tube into the baffles. All of the components were welded extensively, and finally we screwed on the routed 1/8-inch-thick backs to aluminum angle retainers," says Rueff, noting the letters were painted white with Matthews Paint.
To secure the sign, Rueff Sign Company used 3/4-inch-thick 6061 aluminum plates bolted onto 1/2-inch all-thread rods, which were then anchored into reinforced concrete with Hilti epoxy.
Concession Signage: Makers Mark.
Rueff Sign Company also made a variety of concessions signs, including a sign for Makers Mark hand carved from 7/8-inch American White Oak in a nod to whiskey barrel manufacturing. The woodwork was done by Luke Stenson, who joined six-by-one-inch planks of wood together with wood glue. He used hand tools to create the illusion of hand-hewn lumber. A penetrating stain was applied to the material, providing a rich color to the wood grain, then several coats of spar varnish were applied for protection.
The company bolted stud-mounted 1/4-inch-thick aluminum letters painted with Matthews Paint to the face. To install it, they used a 2-by-2-inch painted steel angle to catch the 6-by-10-inch steel square tube.
Fifth Third Club
The club's signage included a two-inch-deep aluminum pan logo sign stud-mounted to the building. It features printed vinyl graphics with the 5/3 logo, which were completed on a 64-inch Roland SOLJET Pro 4 XR-640 printer/cutter. A UV-protectant laminate was applied to the graphics using a KALA 1650 65-inch Laminator. It's lit by Principal LED Street Fighter Middleweight LEDs.
A nearly ten-foot length of channel letters runs down the side of the building spelling out "Fifth Third Club." The aluminum letters were bent on the shop's SDS Automation Super ChannelBender and measure one foot at their tallest. They were stud-mounted to the building.
Additional Elements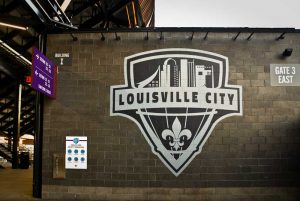 Rueff Sign Company also supplied a number of wall graphics to help brand the stadium, which were printed on AlumiGraphics material.
A large portion of the project also included directional and ADA-compliant identity signage. These signs were aluminum, and the faces were painted with Matthews Paint PMS 269 purple to match the stadium branding. They included either white painted text or white reflective vinyl graphics cut from ORAFOL.
The sign company is proud to be a part of a project where the signs have become landmarks themselves thanks to features like the interactive color-changing LED lights that can reflect holidays and current events (the sign was recently green for COVID-19). "We're happy to be a part of such a big project that transformed the skyline and energy of our city," says Rueff.
By Ashley Bray
Photos: Rueff Sign Company.