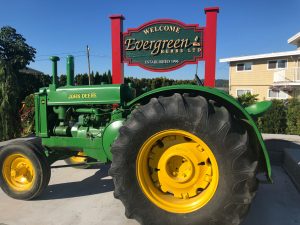 One can say that Evergreen Herbs, Ltd., a family-owned and family-run farm located in Surrey, British Columbia, has a lot going for it. They have a good reputation for growing and providing quality herbs and vegetables for customers. They have acres of rich garden soil. And they have state-of-the-art greenhouses located on the scenic property.
The one thing that they didn't have was a high-quality, sandblasted-type identity sign that would match the local scenery. And their owners knew it.
So to make this necessity a reality, Evergreen Herbs got in touch with Mayfair Signs, a sign shop specializing in dimensional signage that is owned and operated by brothers Kevin and Darren Maycock.
"An employee of the greenhouse came across some of the signs we'd done in the past and liked what we did, so they passed them along to the owner of Evergreen Herbs," says Kevin Maycock. "He contacted us to see if we could come up with a new on-property sign that used their company logo in the design."
Mayfair Signs has been successfully designing, building, and selling carved dimensional signs and plaques for thirty years. They offer both cast metal signs and CNC router-carved signs made from high-density urethane (HDU) material. The shop works on over 40 different sign shapes and sizes, and they have more than 450 emblems in their cast aluminum line of signage. "All of the steps involved in making our signs are done on site, including casting our metal signs in our own foundry," says Kevin.
Kevin and his brother surveyed the Evergreen Herbs surroundings and drew up their sign ideas in Photoshop® outlining possible designs utilizing a post-and-panel style. They sent proofs back-and-forth to the owner of Evergreen Herbs, and once a proof was approved, Mayfair Signs started work by creating the vectors for it using EnRoute Pro software.
The new Evergreen Herbs post-and-panels sign measures 72 inches wide-by-42 inches tall-by-1.5 inches deep and is made from thirty-pound-density Coastal Enterprises Precision Board (PBLT-30). "Precision Board always seems to route out quite nicely for us and is easy to cut. And we knew that a sign of this size would benefit from the extra strength that thirty-pound density would provide," says Kevin. "We always try to get the most dimension from the thickness of the Precision Board that we can."
While the sign panel itself would feature bold green, red, and white colors, the owner of Evergreen Herbs wanted to feature added depth to represent the sturdy nature of their business. Mayfair Signs brainstormed some possible ideas and figured out that gluing gold prismatic letters directly to the routed sign face would be the best solution. Because of this, Darren also cut the prismatic letters separately from the sign using one-and-a-half-inch-thick PBLT-30. "We think having a textured background combined with prismatic-style letters really looks great on the finished sign," he says.
Mayfair Signs started the process by aligning the full one-and-a-half-inch-thick, four-by-eight-foot board of PBLT-30 onto their MultiCam CNC router. "This size allowed enough material for both the sign and prismatic letters to be cut out of one sheet," explains Kevin.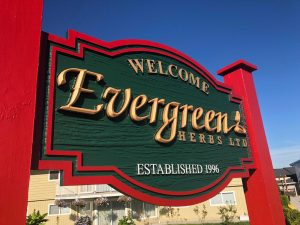 The routing process took two-and-a-half hours to perform. Darren says that his shop uses Onsrud tools to cut on their MultiCam router. "We used a variety of tool bits from ball nose and end mills to conic bits for this project with an rpm around 16000 to 17000," he says.
The texture on the sign's front was routed into the Precision Board using a ball nose routing bit. "We mapped an image of real wood grain into our software and then applied tool paths to the image," says Darren, "resulting in a three-dimensional file that we used for routing."
Next they applied multiple coatings of FSC-88 WB to the sign face. They followed up with three base coats of green. "Three coats increases the durability and fade resistance of the paint, so that it can withstand the many [outdoor] elements for many years," says Kevin.
Before painting the prismatic letters, Mayfair Signs did a test fitting of them onto the sign face to make sure that everything would fit on the sign correctly. "We used an HVLP gun loaded with Modern Masters metallic gold paint to spray the letters," says Kevin.
Since the sign was going to "float" in the middle of two wooden posts that were painted red, Mayfair Signs fabricated a mounting bracket for it using two-by-two-inch aluminum angles and welded them together. However the customer wanted all mounting hardware hidden from the front angle, so Mayfair Signs fabricated an aluminum frame and powder-coated it green to match.
"We glued the aluminum frame together and then screwed it securely into the back of the sign with extra hardware so we could lag bolt the frame to the posts upon installation," explains Kevin.
Installation included a cordless drill, a ladder, and a few helping hands. "We used a socket set for the lag bolts, and it was up in no time at all," says Kevin.
Everyone at Evergreen Herbs was thrilled with the outcome. "In fact, we all were!" beams Kevin.
By Jeff Wooten
(Note: Portions of this article first appeared in a Coastal Enterprises blog.)