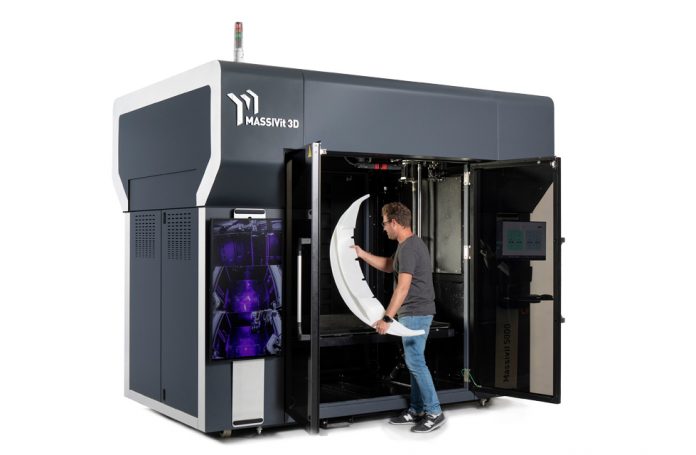 Massivit 3D Printing Technologies, the leading provider of large-scale 3D printing systems, will unveil the industrial-grade Massivit 5000 3D printer at the AMUG 2021 Conference in Orlando, Florida (May 2-6, 2021) as well as at two live Webinars showcasing the new capabilities, features, and applications.
The Massivit 5000 will enable manufacturers and service providers across a range of industries to expedite their lead times for manufacturing large parts, prototypes, and tooling by up to thirty times the production speed of existing technologies.
Based on the company's unique, patented Gel Dispensing Printing (GDP) technology—already adopted across forty countries for fast, cost-effective production of large parts—the new Massivit 5000 introduces to the market new resolutions, materials, and automation capabilities that address industry 4.0 needs, enabling production of large-scale parts within hours instead of weeks.
A new printing material, DIMENGEL 110, now available with the Massivit 5000, facilitates high-definition printing and greater fidelity to CAD designs. Two new resolutions enable print optimization according to layer thickness and speed requirements. The Massivit 5000 offers a Dual Material System that allows operators to print simultaneously with a different material on each head. New software automation features also allow operators to improve workflow efficiencies and enable easy monitoring and operations.
This latest addition to the Massivit 3D portfolio of large-scale 3D printers facilitates complex, large parts up to 145cm-by-111cm-by-180cm (57-inch-by-44-inch-70-inch) that instantly cure during the printing process, enabling ready-made parts straight off the printer without the need for post-processing and with almost no required support structures.
During two launch Webinars, attendees will experience a virtual, live tour of the Massivit 5000 and will see a broad range of applications available across the automotive, marine, rail, and scenic fabrication sectors.
Erez Zimerman, CEO at Massivit 3D, said "We are thrilled to bring to market this new additive manufacturing system that will empower manufacturers to overcome existing limitations in production speed, size, and complexity. It is a significant milestone on our roadmap towards transforming manufacturing of large parts across multiple industries."
—Press Release