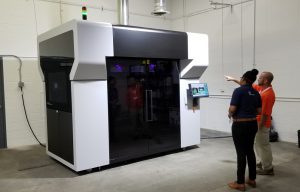 Printing technology has evolved from the early days of screen printing to the latest in digital printing. On September 6, Massivit 3D hosted a North American open house event at The Color Spot, Inc., in Marietta, Georgia where they informed attendees that the next evolutionary step will be 3D printing (especially now that the technology's speeds are faster).
The event attracted graphics providers, sign shop owners, movie prop producers, amusement park theming professionals, and Sign Builder Illustrated to learn more about how 3D printing can generate new sources of revenue.
Massivit's 3D printing leverages unique, patented Gel Dispensing Printing (GDP) technology to produce lightweight, large format, hollow models and displays with instant polymerization and without geometric constraints or the need for complex support structures. Its flexible levels of transparency allow for illumination, backlighting, and a range of finishes (many on display here).
A testimonal from The Color Spot Owner Justin Merletti about how Massivit 3D printing capabilities were being utilized at his shop accompanied informational sessions conducted by Massivit 3D President Kevin Sykes and East Coast Sales Manager Matt McEwan.
They showed videos demonstrating how their 3D printing technology differs from thermoforming (allowing the ability to scale and form in minutes and eliminating the need for a finish), as well as examples of how 3D-printed objects were being used for bus wraps props, billboards, point-of-purchase displays, illuminated objects, and more.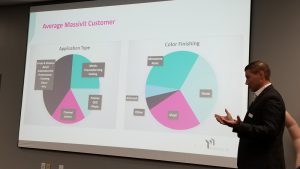 McEwan explained that the average Massivit application type was led by Props & Displays (retail, entertainment, promotional, theming, etc.), followed by Thermoforming (3D signage, retail displays, and vehicle wrapping), Channel Letters, and SEG Frames for fabrics and photos. "The technology is revolutionizing backlit boxes because you can now make all types of shapes instead of squares and rectangles," he explained.
Sykes spoke about how 3D printing has brought innovation, new applications, and production efficiencies to any industry that has adopted it—from industrial engineering to consumer products.
"Health and medical fields are creating prototypes of kidneys, bones, and hip joints, while in the architectural field, Habitat for Humanity is printing houses out of concrete," he said. "And it's exciting that people are now starting to take advantage of this technology in the visual communication and graphics arts industries."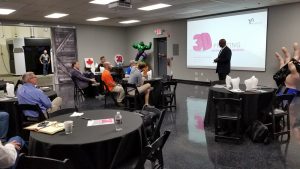 Sykes mentioned how 3D printing is eye-catching. "Our research shows that it has five-times the stopping power versus 2D printing, with four-times the staying power of 2D printing," he said. "At Macy's, they recently 3D-printed flamingos for display in the store. People stopped to look at it and then they stayed around to check out the clothes selection."
Sykes caught the attention of attendees when he told them that it's important to know what your market is with this technology. "Don't under-value or under-price your 3D-printed products," he told them. "Customers where money is no object are eager for this output."
While the start-to-finish process behind the larger Massivit 1800 Flagship 3D Printer was shown off to attendees in The Color Spot's production room, attention was also brought to the company's economical "baby brother," Massivit 1500 Exploration.
McEwan ended the day by suggesting three areas of return-on-investment for users to consider are: (1) profit on 3D stand-alone jobs; (2) profit on 2D jobs won due to 3D elements; and (3) profit using 3D as marketing bait, noting that non-3D jobs have been won thanks to people's general interest in at least seeing 3D print technology.