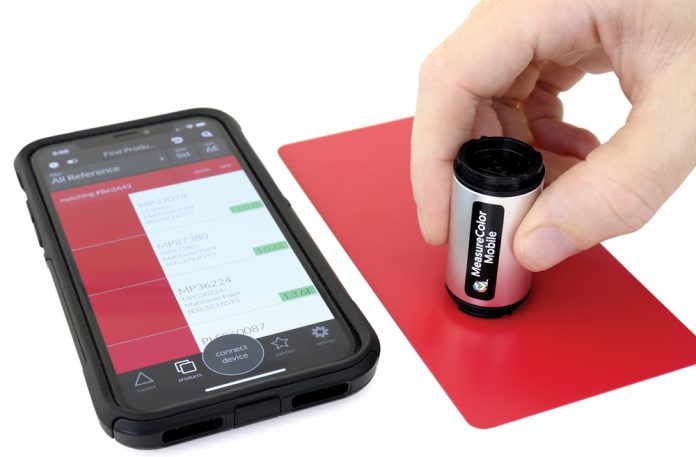 Matthews Paint and MeasureColor together have introduced a convenient color-scanning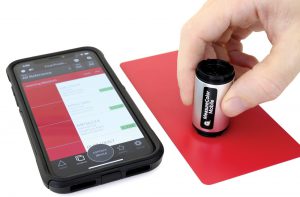 tool for the sign industry. Finding a Matthews Paint color formula by scanning an existing paint sample has now been simplified, thanks to the introduction of this device and associated app. This portable color scanner, weighing about an ounce, easily fits in the palm of the hand. Paired with a smartphone or tablet a user already carries, the device is ideal for scanning color in the field.
The small Bluetooth® enabled scanning device accurately captures surface color. The device then syncs with the app installed on a smartphone or tablet to find the closest Matthews Paint color match. Then simply tap the link in the app to go to the MPC Online Color Formula Retrieval and access the color formula. The scanning device uses Delta E calculations and L*a*b* color values for accurate color.
"Our customers will seldom need to send color samples to the Matthews Paint color lab because you can achieve an accurate color scan on the spot," stated Jan Scheske, Manager of Marketing and Customer Service at Matthews Paint. "This will reduce the total time associated with preparation and turnaround time on projects."
The device and annual app subscription can be ordered through a link on the Matthews Paint website. The app is available at the Apple App Store or Google Play Store.
Jim Lange, VP of US Sales at MeasureColor added, "We're thrilled to be working with the team at Matthews and its extensive distribution network. This integrated solution has been designed to support the Matthews mission, leverage a cloud-based platform and provide value at affordable price points."